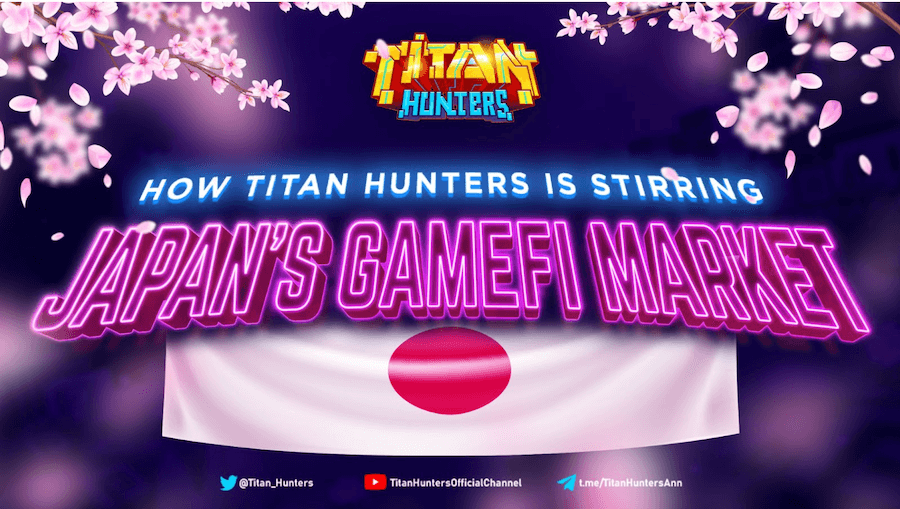 Titan Hunters – the pixelated and roguelike NFT Game from Vietnam – has just been released for less than a month but already caused a real stir in Japan's GameFi market. How did Titan Hunters gain its first success in this scrutinous country? What should Japanese users expect from the project? Let us go through all of those questions in this article.
The first and unpredicted success
"The hype is overwhelming and unpredicted", said Arthur Vu. The CEO revealed that there are at least 70,000 users playing Titan Hunters everyday, which accounts for 65% of the game's population. The number is showing no sign of slowing down. As you may know, Japan has an extremely competitive gaming industry with a long history and legends such as Capcom or Nintendo feared by any newcomers. The country is also known for its scrutiny towards GameFi projects. Therefore, the first success in Japan's market proved Titan Hunters a competent GameFi in Q2 of 2022. Developed by Rikkei Capital – an incubator whose parent company Rikkeisoft has 10 years of experience in Japan and Topebox – one of the leading mobile gaming companies in Vietnam, Titan Hunters is step-by-step taking over every corner of Japan's GameFi market. 
Become a trendy topic in Japan
"Everyone is talking about Titan Hunter as if it was Axie Infinity", the CEO passionately said. Titan Hunters are receiving positive feedback from the Japanese community. Most praised its captivating and addictive gameplay as well as the team's dedication to user support. 
Lucian, Ambassador of YGGJapan, tweeted he was actually addicted to Titan Hunters gameplay. He also appreciated the easy operability and admitted he had joy when experiencing Titan Hunter's hack & slash features. 
After that, many players also shared their thoughts with Lucian, praising the project's capabilities and effort on the early stage, strongly believing that Titan Hunter would rocket "to the Moon" in near future. "In fact, there are so many positive Tweets that Titan Hunters suddenly became a trend on Twitter Japan", said Community Manager Leila. 
Titan Hunters has won the love of Japan's GameFi community. Many fan accounts were created on Twitter to support the project. Japanese players even established a Fandom Wiki for Titan Hunters to further bring Titan Hunters to other Japanese players.
What can players expect from Titan Hunters in the future?
"Thank you all for always supporting Titan Hunters. Such a great community is the biggest reward for us", said Arthur Vu. He strongly believed that the tremendous support from the Japanese community is the main reason for the success of Titan Hunters in its early stage. 
However, challenges will come soon or late. The Titan Hunters team knows that they must not be lazy at this moment. They got bugs to fix, features to develop and potential users to take care of. "We will try our best to perfect our games and to satisfy our avid users!", Arthur Vu concludes.
About Titan Hunters
Titan Hunters is inspired by the fun gameplay of Diablo, Voxel's signature look, and the feel of Minecraft. It is a creative and unique game project that combines NFT (Earning Nature) and the best gaming genre of MMORPG (Fun Nature).
Titan Hunters successfully launched IGO on November 18, 2021 and published the Mainnet Version on March 31, 2022. Apart from being one of the few games to launch amid Crypto Winter, the game is also known for staying loyal to the roadmap and constantly improving the user experience.