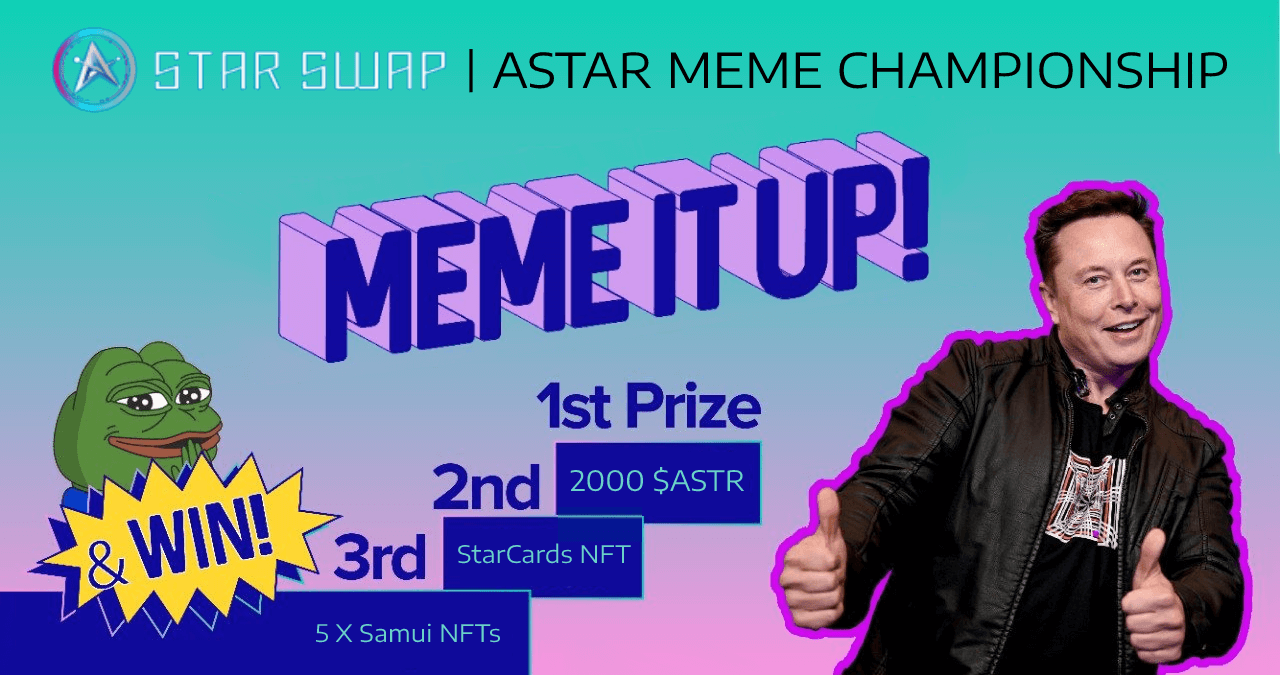 StarSwap, the popular DEX on Astar Network has announced their plans to bring a Meme championship to Astar to create some fun and entertainment while the community sail through these highly volatile times.
They have mentioned it is not a simple contest, but a championship with two rounds. 20 Winners from the first round will be selected and they compete against each other in the final round.
In the final round participants can win:
First prize 2000 $ASTR tokens.
Second prize one StarCards NFT
5 Third prizes of one Samui NFT each.
Star Swap MEME Contest Dates:
First round begins at 3PM UTC Monday (June 13th) and ends at 3PM Thursday. Results at 4PM UTC Thursday.
Final Round begins at 4PM UTC Thursday and ends at 4PM Saturday. Results at 5PM UTC Saturday.
How to participate?
Simply create a StarSwap or Astar-themed meme (or many memes, participants are allowed to create as many memes as they like) and post it on your twitter using the hashtag #StarSwapMeme
Share the link to that twitter post (the meme post) in the #memes-fan-art channel in our discord.
Winners are selected according to the total engagement their memes get (number of likes, shares and replies on twitter ~ number of reactions on discord). If you post multiple memes (which will increase your chances to win), your score will be the score of the meme with the best engagement.
First round winners will be selected 72 hours after the event starts, and the final round winners will be selected after the next 48 hours.
Tips: Your meme can be about StarSwap or  Astar in general, but you'll probably want to flatter the StarSwap community because they will account for a lot of the votes. Votes on Twitter AND Discord count for winning so you'll want to increase your reach with hashtags, tagging friends etc. So make sure to invite your friends now so they can help you win after the elimination round!
*Participants must be following @StarSwap on Twitter and be a member in our Discord to be eligible.
Source: StarSwap Blog.
URL: https://starswap.net/blog/astar-meme-championship-with-prizes-in-astr-starcards-and-samui-nfts/
Tagged with
 Star Swap
 StarSwap DEX
 Astar MEME Contest
 Astar DEX