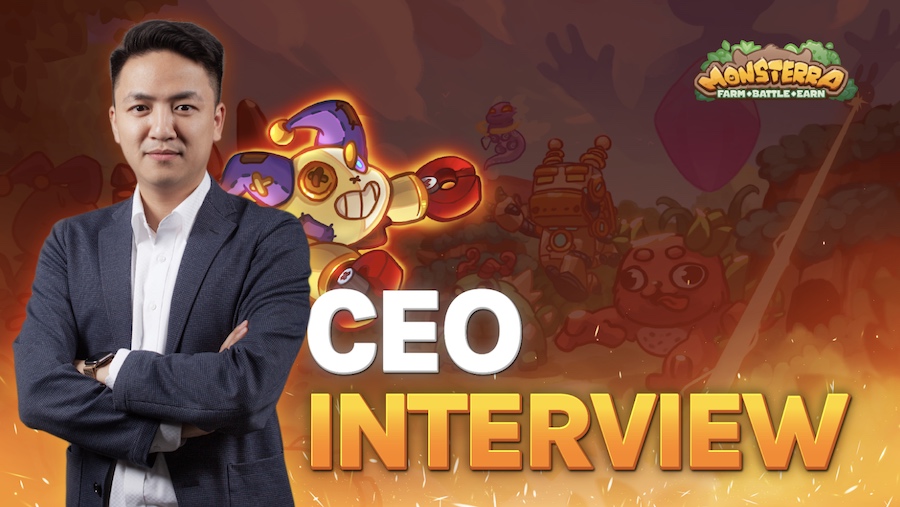 There seem to be few aspects of our lives that blockchain has not had some influence on. From the financial world changing thanks to the rise of cryptocurrency to how NFTs have influenced the art world, blockchain is firmly embedded into our daily lives. 
With that in mind, it comes as no surprise that gaming was next on the list. Lately, blockchain has made a splash in the gaming world thanks to GameFi. This new way of gaming leverages blockchain-based tools like NFTs and the metaverse to create a new gaming experience for players. 
One of the most prominent new GameFi projects in the space, Monsterra, has attracted a plethora of support from top Venture Capitaland with its recent $2 million raised in its Private Sale Round, shows that the GameFi space has staying power.
Within 5 months from the starting point of fundraising, Monsterra has been   invested and supported by strong backers including Hashed, Shima Capital, Huobi Ventures,  Icetea Labs, Salad Ventures and more than 30 other partners. In total, $2 million was raised which will go towards the further development of the game and the launch of new and improved features. 
This was not the only successful fundraising effort that Monsterra has taken on this year as in February 2022, it held a Mystery Box Sale on the Binance NFT Marketplace. During the sale, 20,000 boxes were sold out in 10 seconds, a record for the industry. Another set of 600 boxes was listed on GameFi and 300 boxes on Metaverse Starter and these were sold out within an hour. 
"Monsterra is the first freemium P2E game of Fizen Game Studio – an integrated component of  Fizen Ecosystem that brings world-class P2E projects with immersive gameplay and a balanced in-game economy to fuel the GameFi revolution. With this support, we aim to build  a sustainable product and enhance our users' gaming experience."
Today, we have an interview with Mr. Leo Vu – CEO of Fizen.io, mother company of the project, about Monsterra and the GameFi sector.
Usually, blockchain products take a while before they are fully accepted into the market. GameFi, on the other hand, has seen a quick acceptance. Why do you feel that is?
There are many reasons why GameFi convinced the market at launch when gamefi is a great combination of Gaming and Finance. From a personal perspective and market research overview, the most important factor is timing. GameFi launched when blockchain was relatively popular, accepted, and had undeniable long-term potential.
Besides, since Covid-19 seriously affects the world, people have to stay at home and start coming to P2E games as an entertainment practice and alternative source of income. The greatest example, Axie Infinity, has appeared and brought both elements to many people around the globe and became a great inspiration for later projects.
We firmly believe that the Play-to-Earn Game model powered by NFTs will continue to rise and open a new era in the blockchain industry.
What was the inspiration for Monsterra?
The gaming sector is expanding at a rapid pace. With that hasty growth, encountering tough obstacles and backlog problems is inevitable. After conducting research on popular games, Monsterra team found out that there are several problems faced by both gamers and games publishers including: 
– High Entry Fee
– Poorly Designed Gameplay
– Imbalanced Tokenomic Model
– High gas fee rate
That's the motivation for us to build Monsterra, the first freemium game in our Fizen Game Studio, with various innovative solutions to the existing problems above.
Coming from the traditional gaming market with strong background in blockchain space, in our short introduction, Monsterra NFT Game is inspired by the Axie Infinity game's pet world and the gameplay in Clash of Clan or Boom Beach of Supercell. 
Both your private fundraising have been met with a lot of support? What do you think drove the appetite for GameFi content so much?
Right from the start, our top priority was to build a world class product for the community. We strive to deliver a revolutionary existing P2E game that transforms Play-to-earn games into the fun zone with well-structured gameplay and stunning graphic design with various addictive in-game mechanisms.
Drawing the lesson from other game developers, the Monsterra team used MSTR (the native token) and MAG (the reward payout token). We increased the utilities of the tokens in various ways to keep the supply amount and burning demand perfectly balanced. Thus, Monsterra can achieve the sustainability & scalability of the ecosystem over time.
More importantly, we have great support from the project's executive advisor, Mr. Thi Truong – the Founder and CEO of PolkaFoundry, Red Kite launchpad, and Icetea Labs, plus with the immense potential from a few quality gamefi projects, we have step by step built a relatively favorable start with a right vision and orientation to win strategic investors for the private round.
How exactly does Monsterra work?
The game sets foot in a fictional world and revolves around farming, property building, and battling with other lands with the magical creatures named Mongen. The revolutionized design of Monsterra is a combination of free-to-play and free-to-earn models which allows millions of gaming enthusiasts to enjoy fun and have a high-profit stream with no prior investment.
There are 5 key components of Monsterra including the Gameplay, Dao Treasury, Marketplace, Portal Games and Guild. In addition, I must emphasize the USPs that will definitely make Monsterra a revolutionary P2E Game potentially attracting a thousand new players:
✔️ Unprecedented Breeding Mechanism
✔️ Customizable Land Shaping Mechanism
✔️ Diverse Land Themes
✔️ Innovative Token and NFT Staking, Yielding Farming Mechanism
I suggest the gamers experience the public testnet of Monsterra and get ready for the mainnet officially launches in mid-May.
Why is there so much emphasis on passive income creation within the game?
The entertainment industry will continue to flourish with the support of blockchain in the coming years and the unexpected events will also often take place with their unpredictable nature. People will gradually return to daily life and a full-time job, but at the same time maintain the habit of entertainment. Creating an extra source of passive income has become an essential part of any individual and definitely, it is great achieving two goals at the same time: having fun and having money in a long-term potential project.
What's next for Monsterra beyond your Q3 roadmap?
At the moment, we are wrapping up all of our activities for important events this Phase 2 as follows:
IDO

Farming Game Launch

Battle v1: Adventure Mode  

DAO Treasury & Staking  

Battle v2: Battle (Boss Challenge & Battlefront)  

Multi-chain (Add Terra chain support)  

Fusion (Optional)  

DAO Governance
For the upcoming Phase 3, we will concentrate on building better gameplay with new mode upgrades as listed in our Roadmap published on Monsterra website. The activites are focusing on:
Community events

Partnership Expansion

Battle v3 (PvP Mode)

Arena Mode

Clan War
Our team is working hard day and night to speed up all steps. We will frequently announce loudly on all channels of the project so that our partners, community members are all aware of the journey of Monsterra.
Where do you see the GameFi sector going in the next few years?
When starting Monsterra, we did our own research which based on that,  the game industry is predicted to be worth more than $200 billion by the end of 2024 and on the cusp of a dramatic evolution.
The future is a surprise and I am sure that gamefi will have various new directions in the coming years. Not only for entertainment purposes, a full-time job but beyond that, the world can be connected flexibly and closely. On the side of Monsterra, we strive to build a sustainable project for gamers, crypto enthusiasts for many years to come and beyond.
Further, we can allow time to answer and look forward to the surprises ahead!