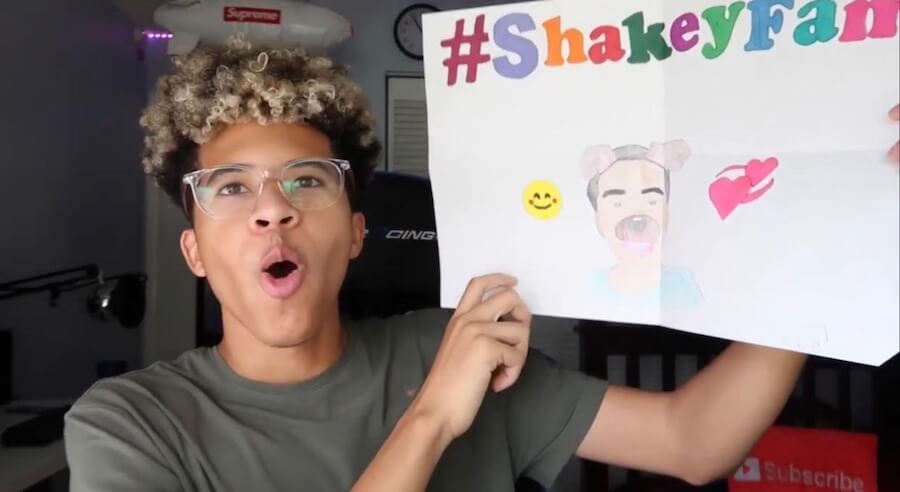 Hello Ryan, could you please tell us a little bit about yourself and your background? what's your story?
So yeah my name is Ryan Shakes and I am a social media personality, Entrepreneur and the founder of ShakeyFam.
What inspired you to become an entrepreneur instead of choosing a conventional corporate career?
What inspired me to become an entrepreneur instead of choosing like a conventional corporate career was the fact that I just didn't want to work for someone else and I wanted start my own business with my own rules not having someone tell me I need to wake up at a certain time of day and wear this clothes and what not, it just wasn't going to cut it for me.
How did you begin with your TikTok journey?
I started doing TikTok late 2016, I was watching YouTube videos about other people reacting to the app which at the time was called musical.ly , so I said "why not give it a try!"
What made you choose TikTok as the social platform you want to focus on instead of the other popular ones?
The great thing with TikTok, as a whole is that there is a variety of content that you can choose by your liking to upload anything from little comedy skit videos, dancing videos we have people gaming and even vlogging. So a lot of the ideas and trends come from TikTok.
What gave you confidence to become a social media superstar? What inspired you?
Now with the content I post specifically I could honestly say that with TikTok it has most definitely boosted my confidence both on camera as well as off camera
Can you tell us about some of the earlier challenges you faced?
Unloyalty, unloyalty from people around me who didn't believe in me from the start. The naysayers people who just don't have that much confidence in themselves and people who go around talking about other people's negativity, if you know what I'm talking about, you know what I'm talking about.
How long did it take to reach your first million followers? Reaching that milestone, how did you feel?
By early 2019 I had acquired 500,000 followers. That summer, I amassed well over 1 million followers, and in the fall, I left high school to create content full-time.
How do you feel about the effect of the global pandemic in how we use social platforms?
You know it's a great way where we can express how we are doing throughout our lives with just the tap of our smartphones. We can definitely use our social platforms .
You also have an ecommerce platform Company called ShakeyFam, can you tell us more about it?
Yes so ShakeyFam, the named originated around 2-3 years ago when I was Just at the beginning of my career I believe I had around 10,000 followers at the time on Instagram and more and more people started to follow me and I decided why not have a fan group name on which I would call my fans. So I started just brainstorming thinking of different names. I decided to call all the mass people that followed me at the time and one of them that came to my mind was why we call it ShakeyFam which is a part of my last name "Shakes" and "Family" so I put them together somehow and got ShakeyFam. But there is more meaning behind just that word. And 2 years later now I just started the company and am in production doing a launch and super excited to see the company grow from start up!
What are your future plans? Where do you see yourself going from here?
More and more blessings and achieving what's on my life goals that will soon be manifested, as well as inspiring more and more people no matter what age you are that it's never too late to achieve your dreams.
Being a successful influencer in the social media industry, what advice would you give to aspiring youngsters who wish to become popular like you?
Just to keep focus on yourself, and nothing matters except what you have written on your goal list so keep your head on your goals.
Ryan is very active on social platforms and his entrepreneurial journey can be followed on his IG, @itsryanshakes