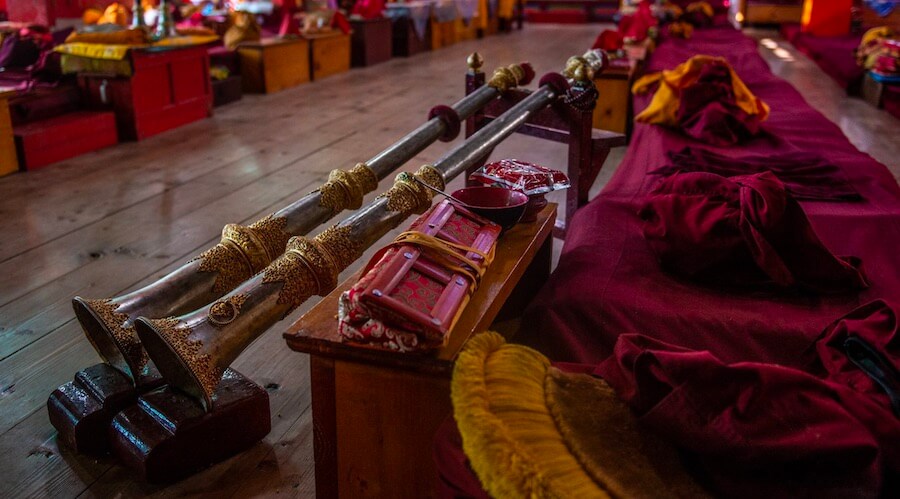 Externally, we value Eco-travel and sustainability by supporting our local partners and projects in each region that we visit. Tying these internal and external values together throughout our journeys, we are visiting and paying homage to the many sacred sites of each area.
Travelling in this way offers participants an environment to transform from 'tourist' to 'pilgrim' in a natural way. This can be greatly felt and experienced as the locals of each area that we visit are so warmly welcoming, there is less separation, and more communication between us. This is an ideal way to learn about the living wisdom tradition and culture of the Himalayan people through direct interaction. When it is obvious that a group of people from a far-away land, have journeyed such a long way to express their interests and respects to the local wisdom tradition, it is an 'ice-breaker' to say the least!
Journeys like this are a powerful (and fun!) way to discover a new way of life, to step outside of what we are used to, and to confront our stale and constricting habits. Even just to have a few days amongst the Himalayas without Wi-Fi can have a tremendous impact on our mental health. They are the antithesis of distraction and social isolation – it is so rich to experience genuine human interactions with those from another culture and tradition.
In short, these journeys are rich. There is so much to experience – it is a recipe from which there are many ingredients to learn, grow, and to discover something within and beyond ourselves.
More details can be found at their website: https://himalayanhermitage.com
This post is tagged with: Himalayan Hermitage, Himalayan Yoga Retreat, Himalayan Meditation Retreat, Yoga Retreat Nepal, Meditation Retreat Nepal, Yoga Meditation Retreat, Specialized Yoga And Meditation Retreat Nepal, Tibet Yoga Retreat, Yoga Retreat Bhutan, Meditation Retreat Bhutan, Yoga Retreat Tibet, Meditation Retreat Tibet