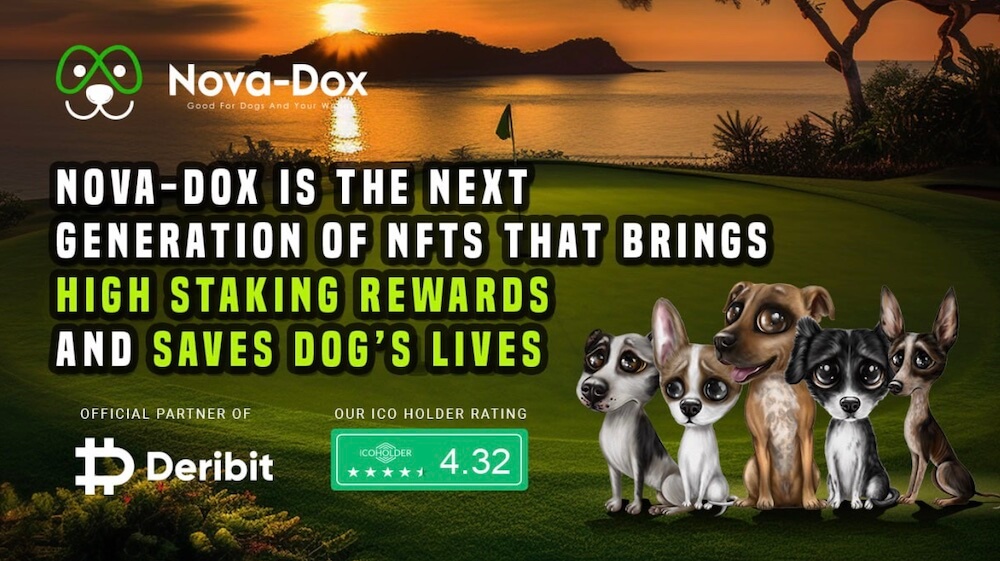 A report on Decrypt revealed that the NFT market generated over $24 billion worth of organic trading volume in 2022. In a similar report, Markets and Markets projects that it will grow from its value of $3 billion in 2022 to over $13 billion by 2027 at a compound annual growth rate of 35%. With the growing potential of non-fungible tokens, many projects have been jostling for a chunk of the market share. However, a few projects like Nove-Dox are out to make users earn more money while providing animal protection services. According to the founder and CEO of Nova-Dox, George Vesters, he aims to keep all dogs out of cages and give them the luxury they deserve.
More Details About Nova-Dox
The project is a revolutionary and ingenious NFT staking ecosystem that integrates a self-developed $ETH trading software designed to help NFT holders earn more rewards. The rewards are exclusively in $USDT, and are strictly shared on the basis of the length of time you are willing to 'lock'  the NFT. You can earn between 4-50% and still keep your non-fungible token. Additionally, 10% of all generated profits are earmarked for building shelters for stray dogs.
During the 2022 market crash, the Nova-Dox software generated massive profits despite the underlying assets' value falling by 65%. You can only imagine the potential of the software during a market boom. The team has already launched the first 444 staking NFTs that enable holders to receive 10% higher vesting rewards (up to 55%) when they choose a 24-month staking period. Another good selling point for the Nova-Dox NFT staking platform is that it covers all customer fees and has no hidden charges or surprises. Once the maturity period has been attained, holders will still retain ownership of their NFTs. Although the Nova-Dox software does not guarantee the asset's value, any value will be added to the staking rewards. Since the rewards are not dependent on rarity, the supply will be surplus. Although the first early investor collector has been completely sold out, the second round of early investor NFTs is still available on OpenSea. Those NFTs are not based on a staking basis. They have a direct link with the real performance of Nova-Dox with an even higher potential.
Partnership with Deribit
The Nova-Dox team recently announced a partnership with Deribit, the dominant crypto options exchange on the planet. This partnership further solidifies Nova-Dox's stand as a top NFT staking platform. It allows it to leverage Deribit's cash flow, security, and other features to provide top-quality services to users. Deribit handles an estimated $1 billion worth of transactions every 24 hours. Therefore, the exchange is capable of ensuring the safety of the funds of Nova-Dox users.
According to Nelle Jan Van Veen, the CTO of Nova-Dox, the security of users and the platform is their topmost priority. This is why they have allowed Bitcounts, a renowned third-party auditor, to safeguard all fiat and NFT assets on the platform. The team also deploys a three-signature system where all transacting parties must give their permission on all withdrawals.
Conclusion
The innovative approach of Nova-Dox to revolutionize NFT staking is highly commendable, and the prospect is undoubtedly great. Kindly check out the newest NFT collection and get started on your journey to earn 4-50% USDT in rewards.  
Tagged with: Nelle Jan Van Veen, George Vesters, Deribit, Nova-Dox, NFT Staking Platform,NFT Staking