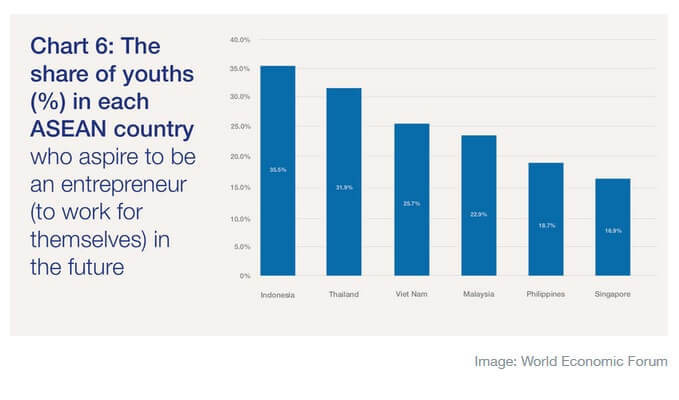 More than 35% of the young people in Indonesia want to become an entrepreneur, finds a survey conducted by the world economic forum.
More than a third of the country's youth aged 15 to 35 want to work for themselves. This may seem surprising in light of its recent series of burgeoning technology unicorns, new billion-dollar businesses, that inspire the country's youth.
Business leaders such as Ferry Unardi, Executive Director of the Traveloka Travel Booking Site, and Nobody Makarim, founder of the 30-year-old Gojek Regional Travel App, have shown that young entrepreneurs can transform Emerging technology companies in billions of dollars relatively short time.
Indonesians are not alone in their dreams of commercial success. The World Economic Forum's latest annual survey of youth attitudes in the countries of the Association of Southeast Asian Nations (ASEAN) reveals a region full of entrepreneurial spirit.
The survey asked what type of organization people work for today and where they would like to work in the future. In Indonesia, 34.1% of young people are currently working for their own account and another 1.5% would like it.
More than a quarter of Vietnamese youth have expressed their commercial aspirations. The country has its own new successful technology companies, such as the agricultural technology company Hachi, which uses Internet of Things sensors to power drip mills, with the aim of reducing waste and reducing waste. increase productivity.
The survey found that slightly more than 26% of respondents were self-employed, slightly more than the previous year, while almost 1% more were aspiring in the future. When entrepreneurs and people working for new businesses add up, the total accounts for almost one-third of ASEAN youth, further highlighting the attractiveness of owning a business.
In some countries or situations, the entrepreneurial desire may be motivated more by the need than by the dreams of larger companies, because people feel that they have no choice but to work for themselves. .