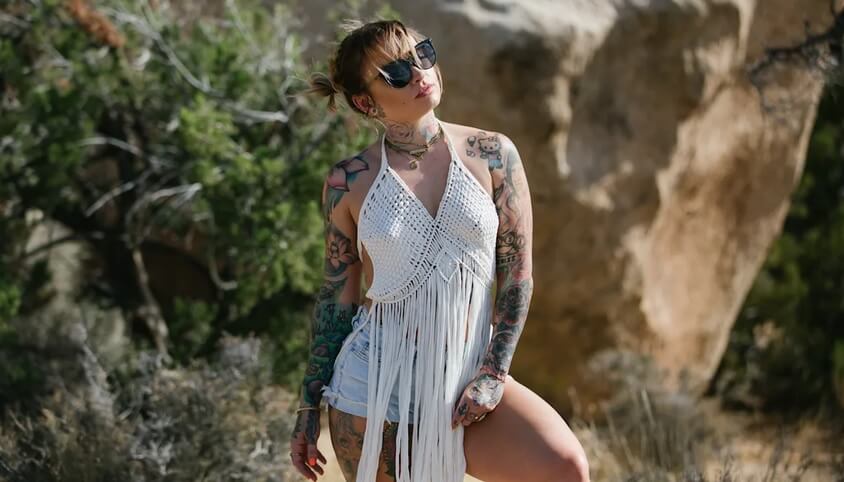 Vany's work includes everything from fashion to lifestyle, gore and cosplay. She started getting tattooed at a young age and fell in love with the industry. At 18 Vany Vicious was a body piercer working in multiple tattoo shops in the Miami area which is how she began getting tattooed and also being photographed for tattoo magazines. Vany Vicious has reached over half a million followers on Instagram and over 4 million followers on her Facebook page organically. Because of her gigantic social media presence, she is now a successful entrepreneur and has two businesses aside from her modeling career; ThrowBack Garage and Haute Floss.
Hi Vany, thank you very much for doing this with us! Welcome to Startup Fortune. Could you tell us a little about yourself? What's your story?
Hey there, of course! My name is Vanessa but I'm known on the internet as Vany Vicious. I'm a model and entrepreneur. I've been in numerous tattoo magazines across the world including a few covers, and I now have 2 online clothing stores called Haute Floss and ThrowBack Garage.
How old were you when you started modeling and why did you want to become a model?
I started modeling at 18, so I've been in this industry for over a decade. I honestly never thought about modeling and never really thought i would ever be the "model-type". I was a weird kid growing up and was never really the "pretty girl". When I was 18, my roommate at the time purchased a camera from a garage sale or something. We spent the entire day playing dress-up and taking photos around our house. I was kind of digging the photos so I uploaded them to MySpace and was soon contacted by a Pinup Girl style website. They asked if I would be OK with them publishing the photos on their site and I agreed. From then on, I kept shooting with professionals I was meeting on Myspace, kept posting, and my social media presence kept growing.
What was your first big break in the industry? How long did you have to wait for that?
I think the first time I ever got really recognized was probably on my first cover shoot. Which totally happened randomly. It was Savage Magazine a very very long time ago.
What were the initial challenges you had to face?
At the beginning, I didn't have many challenges because I didn't have as many people watching. I think more challenges come along the more popular you become. I think the biggest challenge is letting go of the negativity people spread on social media. It bothered me for a while, constantly having millions of people telling me everything that they think is wrong with me.I've learned throughout the years that you can't please everyone. And I've truly accepted and embraced who I am 100%
What is the most interesting incident that happened to you during a shoot? What has been your favorite job so far?
I've had a few interesting moments for sure. I've done shoots with baby crocodiles which were pretty awesome. I've also almost fainted during a shoot because I thought it was a good idea when I first started to starve myself before shooting. I've learned my lesson. I also almost drowned attempting an underwater shoot a few years back with a piece of cloth that was about 50 feet long. Every day is a new day!
I honestly don't have a favorite because I constantly work with such amazing and creative people, I really cannot pick a favorite. I love every chance I get to create something new. I recently shot in Joshua Tree National Park in California which was beyond amazing.
Would you like to mention a couple of your clients? Any specific names or brands that you've worked with?
I'm so grateful to be able to work with brands I love. I work consistently with ProSupps, GButter and Fashion Nova and I love them all. I am forever grateful that they gave me a chance .
Now, let's talk about something else for a moment 🙂 What is your favorite movie of all time and why? Do you have a favorite celebrity?
My favorite movie of all time is True Romance. There is just something about that movie that I find so dope. I think one of my favorite celebrities is Leah Remini. She is hilarious and so tough. She reminds me of my family members, she could easily be my cousin .
What do you think is the most unique quality of yours? What makes you stand out?
I think what makes me stand out is my hustle. There are thousands of girls who do this type of modeling, and there are thousands with way more followers than me. But I know I'm doing something different when these girls are reaching out to me for advice on how to grow their personal brands. I think the way I market myself, and the way I have been able to build a business from being me is what separates me from the rest. Not everyone has that grind mentality.
Tell us about your diet and exercise routine. Do you eat nutritiously? How do you train? Do you like yoga?
I train 4-5 times a week and I love heavy lifting. I train like a body- builder because that's how I was taught and that's how I've seen the most results and changes in my body. I do eat well, except on weekends. Ya girl loves her cheeseburgers. Not a fan of yoga though, having big legs makes it difficult to be flexible but I need to work on that.
Becoming a successful model is just a dream for many. Is there anyone you are grateful for helping you get where you are now?
I'm grateful to every photographer that has worked with me, especially in the beginning. One person I am extremely grateful for is my friend Vanessa (VaneVivid) on Instagram. She is the first photographer that got creative with me and there was a big chunk of my career that I was only shooting with her for magazine publications. She always believed in me and we always produced really amazing images. She is a big part of my life and I love her to death.
What are your future plans? Do you have any plans to create your own fashion startup at some point?
Right now I'm putting a lot of my focus into my two stores. I started them both around the same time this year so they are very new. I'm treating them like my babies. Haute Floss is an online swimwear and women's clothing boutique. Throwback Garage is a vintage clothing and home goods shop I opened on Etsy.
That's wonderful! Tell us about your journey, from a model to become an entrepreneur!
I've been able to fully support myself with my modeling career for a very very long time. I know modeling is not going to last forever so I thought that putting some time into new ventures would be a smart thing for me to do. Although, I have college degrees, the entrepreneurship is what really makes me happy.
As a person who started in the industry at a very young age, do you have any advice for those who want to become a model?
My advice would be, do not shoot anything you are uncomfortable with. Intuition is a very real thing. If something doesn't feel right at a photo shoot, or even during a conversation before, Don't do it.
When you are not busy modeling, what are your favorite activities? Do you have any hobbies?
I'm truly a workhorse. I'll have fun when I feel like I've done enough. It sounds miserable to some people, but I wouldn't have it any other way.
Thanks again for your time and now, one last thing. Where can we follow you? 🙂
My instagram is @OfficialVanyVicious, my fitness IG is @vanyviciousfit
Facebook Page https://facebook.com/officialvanyvicious
www.vanyvicious.com
Thank you!