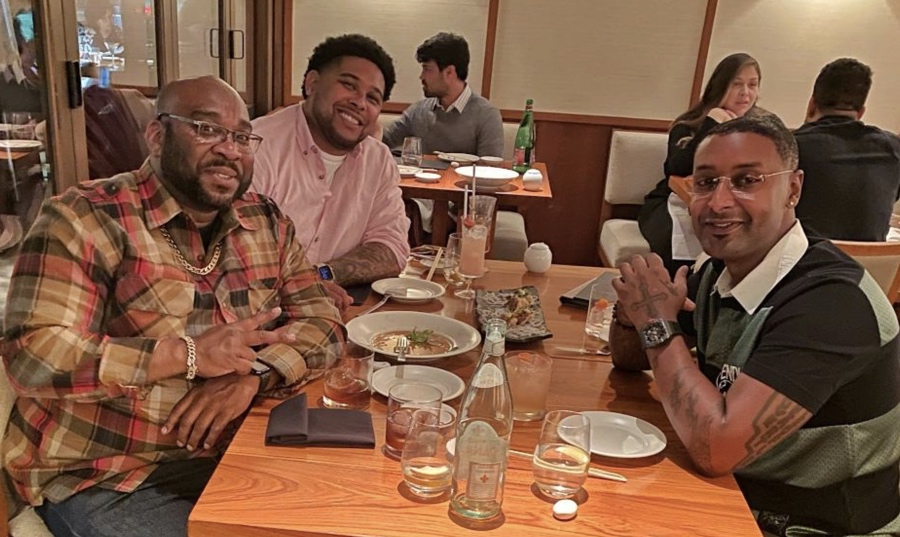 We had the pleasure of interviewing Jason Jones and Hiruy Amanuel to discuss life after incarceration, criminal justice reform, and plans for the future.
Jason Jones is a Full Stack engineer and budding technopreneur. Jones is the co-founder and CEO of a software development startup employing formerly incarcerated individuals on corporate and SME freelance projects. In the last three or four years of his sentence at San Quentin State Prison, Jones began learning computer coding through The Last Mile program. Jones had no previous knowledge of coding and said he was just excited to be able to access a computer. It didn't take long, though, for him to learn to code and fall in love with it. Like Amanuel, Jason came from challenging circumstances, born and raised in a world with little family or support. He spent most of his adolescence without guidance, parental figures, or mentors. Early in his teenage years, he found himself in trouble with the law which eventually landed him in prison for a 13 ½ year sentence. 
Hiruy Amanuel is a returned citizen and successful tech investor. Amanuel has invested in eight tech startups between the US and Africa and co-founded four companies, including one Venture Capital firm that invests specifically in African tech companies. Amanuel's life wasn't always so bright and has been one of trial and triumph. He, too, recalls suffering in the criminal justice system stemming from his adolescence over ten years ago. Amanuel also served time but attributes his resilience in life to his difficult upbringing. The Last Mile is similar to REFORM Alliance, a non-profit organization dedicated to probation and parole, and is near and dear to Hiruy Amanuel. He believes deeply in the mission of "changing lives through tech" by preparing incarcerated individuals for successful re-entry with business and technology training. Helping to advance the underserved is nothing new to Amanuel, who comes from an immigrant background. "It was hard for us growing up. I was born into poverty and raised in crime-infested neighborhoods. Drugs and murder all around us were what we witnessed growing up in the '90s in California." Having been incarcerated himself, Hiruy was able to turn his life around and become a champion of criminal justice reform. In addition to his efforts to support The Last Mile and his successes as a venture capitalist, the Silicon Valley entrepreneur has turned his sights to Africa and is working to build a strong tech sector on the continent while also providing underserved youth with the skills they need to create a brighter future for themselves.
Recently, Amanuel has joined with Jason Jones, a returned citizen himself and a former beneficiary of The Last Mile program, for a mutually-beneficial partnership that will, in part, support Jones' new business venture — Disrupt to Innovate. The two share synergies in tech and are both champions of criminal justice reform who regularly collaborate in the space. Hiruy's companies have even contracted Jason's company to manage and build some of their tech projects and mentor Jason as he scales up his company.
Past Challenges Can't Hold Us Down
After dropping out of business college in 2012, Hiruy decided to sell cars and middle-man properties to build up enough liquidity to start a brokerage firm. He then began investing across the consumer and financial sectors while studying international capital markets. Tech was appealing, but after making a few failed investments into young startups such as META, he quickly realized that he needed to take his experience into less developed landscapes. This strategy would allow Amanuel to have more opportunities to invest in developing landscapes at lower risk and go on to co-found a tech fund that invests in scaleable African tech startups. Through Gullit, Hiruy continues to bridge the funding gap between early-stage startups and venture capital on the continent. The Gullit team focuses on lean impactful startups that can rapidly scale within the African landscape. In addition, Gebeya Inc., a company that helps to train and eventually employ skilled software developers in Africa, provides education and training in the tech sector to African youth who often don't have as many opportunities to do so on their own. They also utilize a marketplace platform that outsources less visible tech talent on the continent. This is crucially important, especially as Africa has one of the fastest-growing economies in the world. Through Gebeya Inc. and Gullit VC, a team of angel investors that funds early-stage tech startups, Amanuel is doing his part to pay it forward.
Jason Jones Overcomes His Past
"I look at coding a lot like music," Jones says. "You write a song or whatnot; no matter the race, the class, or anything, the song will impact people if it's good enough. It's the same thing with technology. You write software, your code, your script, whatever piece of software you put out in the world; if it's good enough, it will impact people."
Three weeks before he was paroled in September 2018, Jones signed a working agreement with a San Francisco tech company. It was "life-changing" since it was his first time having a real job, license, car, and insurance.
At the same time, Jones began volunteering at The Last Mile, teaching computer coding to young people. 
Synergies Between the Two
Jones worked his way up to senior manager of partnerships at The Last Mile, where he first met Amanuel, who was already a big supporter of the organization. 
As the two began working together with the organization, they realized they had a lot in common beyond just the fact that they were in tech and were justice-impacted individuals.
Jones said that Amanuel has been instrumental in helping him and his partner structure "Disrupt to Innovate," helping guide them through the business plan creation and navigating the business world. 
The goal of Disrupt to Innovate, which has an official launch of January 2023, is also to host a platform where formerly incarcerated engineers can access gainful employment through projects sourced by the company. This will allow them to build their work experience through a team instead of being overlooked due to their criminal records. In addition, Jones and his partner want to fill the digital gap in the local population, where people often don't have the resources to get into the digital space. As such, the company is working on designing a curriculum and workshops to fill the need.
Jones is also supporting Amanuel in many ways, too. For example, Jones was recently hired as the new webmaster for Amanuel's company.
"Jason is not only a colleague of mine but also a friend," Amanuel said. "We have both been through the criminal justice system and come out victorious on the other end despite the numerous challenges we faced upon release.
"We support each other, and now I am happy to say we work together, as Jason is our new company webmaster. Not only does he manage our business sites, but he also advises on optimizing affiliate websites as well."
The Two Champion Criminal Justice Reform
Both Amanuel and Jones believe in criminal justice reform and are champions in the space. 
A significant aspect of this is educating and training individuals who may have been incarcerated long enough to not be familiar with computers and then becoming a returned citizen in the digital age.
Jones is consulting with Google about creating resources for returning citizens and justice-impacted people. In addition, the company's Grow with Google program teaches people the digital literacy skills they need to get into the space and help bridge the digital divide. And Jones is a big part of that.
As big supporters of The Last Mile, both Amanuel and Jones are working hard to help others overcome similar challenges to what they faced and succeed as they are today. "It is not where you start in life but where you end is what defines you," says Amanuel.