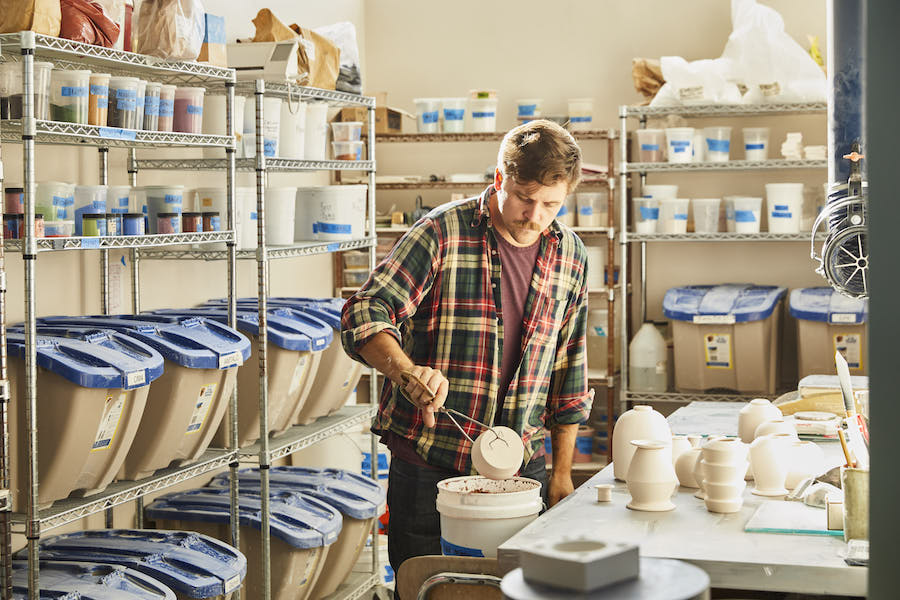 The abrupt sound of a 5:30 AM alarm and the lingering smell of coffee wakes up Nate Mell as he starts his morning ritual of splitting a pot of java with his wife Katherine before they take their dog Potato on a walk to the park. After walking, Mell makes his way through ten minutes of Philadelphia traffic to his ceramic design and manufacturing studio to begin a day of work creating custom ceramics for design-conscious professional and at-home chefs.
A small percentage of people in life organically find a way to exercise their creative passions serving a newly discovered need for an entire industry. Nathaniel Mell, the Founder, and CEO of Felt+Fat, beautifully merged his craft with the market for custom ceramics within the hospitality industry.
Although Mell was born in Philadelphia, the future location for Felt+Fat's studio, Mell and his family lived in Hawaii for the first part of his life until the age of ten. Being the fourth child of creative parents, Mell discovered a passion for working with his hands early on, which ultimately would serve as the foundation of his artistic and innovative skills. He remembers his parents staying true to working jobs they were passionate about, but their jobs were low-paying. 
After his family returned to Philadelphia, Mell stayed there until he graduated high school and moved to Australia. For the next four years, Mell worked as a volunteer, embracing a sense of community, charity, and love for travel, exploring the vast scenery and culture of the land Down Under, including the surrounding island nations such as Fiji and the Salmon Islands. 
Mell made his way back to Philadelphia in 2008 to pursue a bachelor's degree in Fine Arts (BFA) with a focus on glass at the Tyler School of Art at Temple University. During his studies, Mell paid the bills working full time in restaurants. He continued to earn a living through the restaurant industry after graduating from Temple University in 2012 and being accepted into a work exchange program at the world-renowned Philadelphia Clay Studio.
The combination of employment in restaurants for almost eight years while working at the world-renowned Clay Studio in Old City foreshadowed Mell's future. As he began his work exchange program at the Clay Studio, Mell serendipitously started working as a server at the restaurant Fork under the Michelin-starred chef, Eli Kulp. In 2013, Kulp, then relatively new to Philadelphia, requested Mell to make plates for a new restaurant idea. The new restaurant Kulp envisioned would go on to become the present award-winning High Street on Market, which Food&Wine magazine deemed one of the 'best new restaurants of 2014.' Mell took on the project for Kulp, motivated by the extra income, only to realize something special between the pages. 
"Somewhere during the course of that project, I realized that the top restaurant in the world at the time (Noma) was using custom, hand-made tableware, and that meant every aspiring chef in the world would be wanting to do the same now; we were on the crest of what could be a seachange in hospitality tableware. It was an exciting realization and what really prompted me to take this much more seriously," said Nate Mell. 
Kulp's project fueled Mell to launch his business Felt+Fat in 2014 that would later grow into the 5,500 square foot studio in Philadelphia's Kensington neighborhood that Mell works in today. When 'Nate's Plates' seemed too on the nose, the name Felt+Fat stuck in honor to mid-century sculptor Joseph Beuys' iconic use of animal fat and felt in his career's artwork. 
Felt and Fat pieces come into existence with the assistance of either a slip-casting or pressing method. Mell says that good ceramics is about good chemistry, which is why thousands of glazes have been tested for color and finish in Felt and Fat's Glaze Lab Project. 
Mell finds creative influence through his community, employees, partners, and those he has worked with within the hospitality industry. His Kensington neighborhood inspires resilience and innovation; Philadelphia's roots in manufacturing and industry were shaken when manufacturing companies exported jobs to developing countries to decrease labor costs.  
"Shuttered storefronts and the opioid crisis are still commonplace here, but hidden within a seemingly bleak facade, you can find incredible artists, designers, and makers building tiny empires and slowly changing our city. It's an exciting time to be here," said Mell.
Since the humble beginnings of designing a set of plates for a single chef, Mell's creative vision has blossomed into a bohemian community of talented artisans from all different backgrounds, helping execute Felt+Fat's mission of providing innovative tableware to design-conscious restaurateurs and homes throughout the world. Even now, as the CEO of a thriving company who may have to swap ceramic molds for conference calls more often than not, Mell stays true to his childhood passion for creativity and hard work.
For more information about Nathaniel Mell and Felt and Fat, please visit https://www.nathanielmell.com/ and https://www.feltandfat.com/.