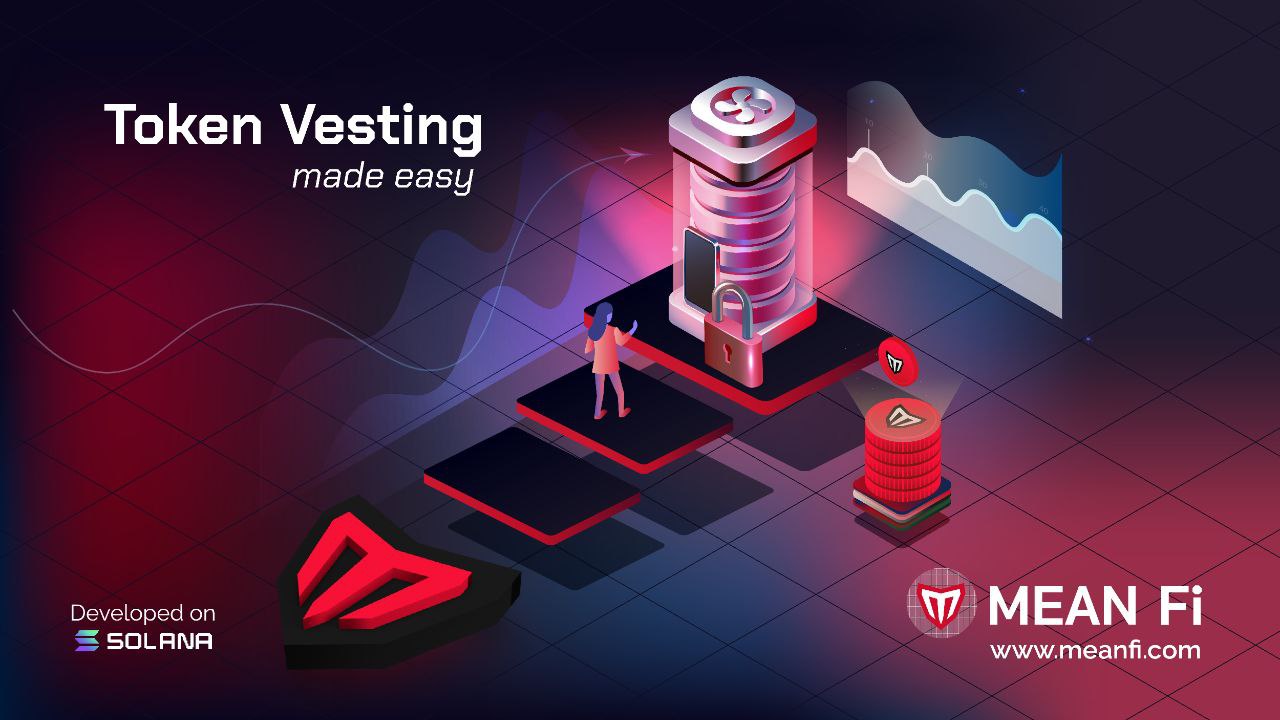 MEAN Fi is pleased to have successfully implemented its token vesting functionality, which will serve as a long-term answer to the challenges that daos, projects, founders, and enterprises have with locking tokens on a blockchain.
Existing products that are comparable to this have several flaws. A user must, for instance, go to streaming accounts, create a locked streaming account by selecting a token, finance it, and then create locked streams. This is quite a conundrum! Consequently, MEAN Fi has even more motivation to create its own product, and it is here!
Mean Vesting is a feature that provides interested parties with an amazing user experience that allows them to set up multiple token locks and vest their tokens utilizing MEANFi's money-streaming technology. This is done to remedy the identified problem. This product's user-friendly interface encompasses the whole process, from creating a new streaming vesting account with cash to generating token lock streams without difficulty.
Notably, MEAN Fi is an easy-to-use, permissionless, and trustless bank that combines crypto and Defi with conventional banking. The team is focused on developing a bridge between TradFi and DeFi to make crypto accessible to everyone. MEAN Fi presents a bank that does not demand client identity or login, does not mandate self-custody, and imposes no transaction limits.
The first objective has been met, allowing the development of contracts that can be locked or unlocked. This simple, easy-to-use, and plain solution can be used by businesses, decentralized autonomous organizations (daos), and individual users who need to lock tokens and slowly give them to their beneficiaries.
The Fundamentals of Token Vesting and Its Expected Future
The development of the token vesting feature was made for several important reasons. These reasons include the facilitation of marketing and sales efforts, the improvement of the customer's user experience, and the expansion of the team's product line while utilizing previously developed software, contracts, and technological infrastructure.
Token vesting is meant to be available to any new project with investors, founders, daos, or other groups that need to lock and unlock a token over time as part of their token sales agreements.
Regarding the second phase, a distribution technology is included in the Mean Vesting system to enhance its capabilities and enable the system to create thousands of locked token streams concurrently. Larger businesses and organizations that desire to send tokens to a large number of people simultaneously will be able to use the service after it has been updated with this new functionality.
The Core Operating System of MEAN Fi
The MEAN Fi  platform is a money-streaming platform that provides a range of income-generating opportunities to a large number of users. Most importantly, the platform simplifies company operations and payment processing.
MEAN Fi was built on Solana. It is currently the blockchain with the quickest transaction speeds and does not need Layer-2 scaling solutions, which are two of its many advantages. It also has nearly no gas fee. 
On the platform, users have access to a range of tools and services that they would typically get from a central bank. However, they must pay a substantial charge and have limited access to these tools and services. In addition, many financial services are designated for a relatively limited user demographic. These services are inaccessible to the great majority of people around the planet.
Wind Up
A straightforward way for projects, daos, and power users to create token locks and vest tokens over time is a key feature that practically every new blockchain project needs right now. 
MEAN Fi's restricted money streams are subjected to frequent audits to confirm their integrity, so users may have confidence that their tokens will stay safe inside them. The tokens will also be available through the locked token stream, as agreed to in the vesting contract.