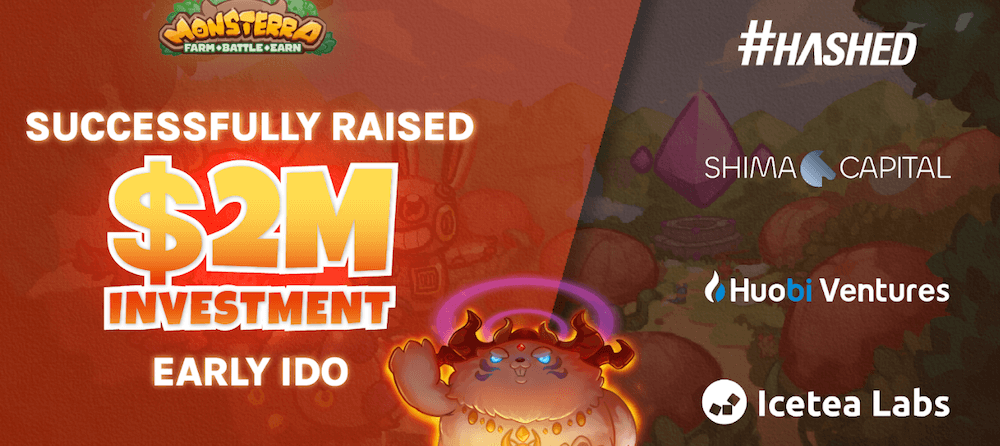 The Play-to-Earn Game model powered by NFTs will continue to rise and open a new era in the blockchain industry. Earlier this April, Monsterra, an attractive and potential gamefi project, successfully raised $2M Early IDO led by Hashed, Shima Capital, Huobi Ventures,  Icetea Labs, Salad Ventures to get ready for IDO and official game launch.
Monsterra is a dual-chain game run on both BSC and Terra networks inspired by the Axie Infinity game's pet world and the gameplay in Clash of Clan or Boom Beach of Supercell. 
The game sets foot in a fictional world and revolves around farming, property building, and battling with other lands with the magical creatures named Mongen. The revolutionized design of Monsterra is a combination of free-to-play and free-to-earn models which allows millions of gaming enthusiasts to enjoy fun and have a high-profit stream with no prior investment. More importantly, Monsterra team use MSTR (the native token) and MAG (the reward payout token) with the aim to achieve the sustainability & scalability of the ecosystem over time.
The team of Monsterra have worked hard together, and developed a well-structured gameplay and sustainable in-game economy with 3 main components including gameplay, DAO Treasury, NFT Marketplace.  Thus, the project has been chosen to be invested by top funds in blockchain space.
Hashed, the leading Ventures in the round with a well-known reputation in the crypto universe and serious standards for investment portfolios, greatly support Monsterra in business development and network expansion with a long-term commitment. 
Shima Capital, an industry-leading blockchain investor with traditional VC experience and a deep network from Silicon Valley to Asia, partners closely in cross-marketing collaboration to increase Monsterra awareness, expand a larger community of active users and also help connect with trusted partners worldwide.
Huobi Ventures, the global investment arm of Huobi Group, invest in and support Monsterra in co-marketing activities and network expansion with reputable partners, especially in DEX and GameFi Projects.
Icetea Labs — the premium gaming and Metaverse incubator and enabler in Asia, and its CEO & Founder also join our core team as an Executive Advisor. With the seasoned experience, intensive blockchain knowledge and strong network, Icetea Labs will give assistance to strategic consulting, expand partner network and promoting Monsterra via cross-marketing activities.
Sharing about the Monsterra Game, Thi said: "I was impressed by the vision of the Monsterra Core Development Team, which aims to revolutionize the traditional gaming experience with the blockchain touch. Unlike most of the existing Play-to-Earn games focusing on the Earning aspect, Monsterra prioritizes the development of addictive gameplay to deepen players' experience in the Game Universe. That means game enthusiasts will be able to enjoy a mixed ecosystem of an exciting play mode and high-profit stream in Monsterra."
Other investors in the private sale are GameFi, Salad Ventures, Kyros Ventures, MetaGaming Guild, GT Capital, HG Ventures and more than 30 partners worldwide. The strong backers & partners network will definitely help Monsterra accelerate its growth & success even more in the coming time.
Within its 5-month journey from fundraising, Monsterra has achieved remarkable & impressive milestones. Marked with a very successful start by Mystery Box Sale on Binance NFT Marketplace on February 7, 20,000 boxes were sold out in 10s then followed by another hit of quick sellout for 600 boxes on GameFi and 300 boxes on Metaverse Starter within 1 hour. 
Continuously from February to March, the project kept working closely for a special NFT Trading Promotion Campaign then ranked  Top 3 of Trading Volume on Binance NFT in the 3rd week of March.Monsterra Beast Habitat Rare was listed as No.1 NFT gainers on Binance NFT with nearly 3,000% of increase rate.  
Monsterra is constantly deploying mass and comprehensive activities including public testnet, NFT marketplace & portal game. With a team size of 50 enthusiastic individuals at the moment and quickly scaling up to 100 members this year, Monsterra is now ready to explode and bring users the best gaming experience!
Said Mr.Leo, CEO of Monsterra – Powered by  Fizen.io: "The gaming market continues to flourish, especially with a boost from blockchain technology. Monsterra is a serious long-term project and expected to bring many breakthroughs in 2022.  Going further with NFT games is going to the future with revolutionary gaming experience."
To learn more, follow Monsterra's official channels below:
Website|  Twitter | Telegram| Telegram Announcement| Discord| Medium|  Youtube|  TikTok