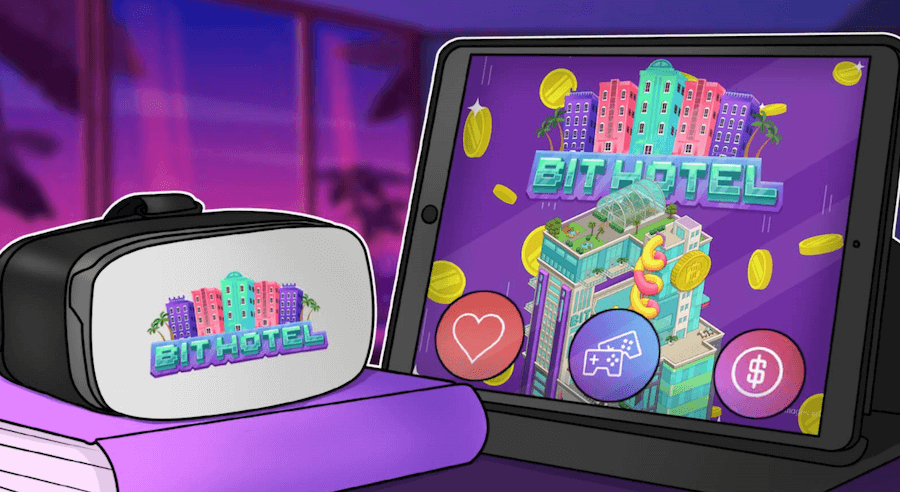 Metaverse game Bit Hotel is the talk of the crypto space presently, after the game sold over a million dollars worth of real estate properties. While many will not be wowed by the mouthwatering figure given the massive amounts generated by other popular games, it's still astonishing to see that newly launched games like Bit Hotel can garner such a heavy amount from in-game sales. For Bit Hotel, this is massive.
The massive sales prove one thing – that NFT and play-to-earn games are here to stay. They are the future of gaming, and it's evident that players prefer this type of game to traditional games where they get nothing in return for their game time. Play-to-Earn games make it possible for one to earn while playing. Games such as Bit Hotel have leveraged the P2E concept to attract gamers into its ecosystem. 
Bit Hotel Gaming and Social Mechanism
With its nostalgic design and incredible features, Bit Hotel is already looking like a big hit. The reboot of the prominent flash game Habbo Hotel is a Play-to-Earn, social NFT game. It enables users to earn tokens from competing against each other in mini-games, which can be converted into in-game assets. 
Bit Hotel is built on the Binance Smart Chain network and uses its Bit Hotel Token as its native currency. Players have to compete to collect land, characters, furniture, and NFT assets to earn in the game. Players can choose to showcase their items in virtual rooms. 
The social feature is a core component of the game's ecosystem. Users have the chance to meet and chat with other players over text and voice communications. The rooms in the metaverse hotel save as chat zones, where guests can hang out and trade items. Rooms can be purchased or rented, adding more excitement to the game. In addition, the owner can host events inside their rooms and invite people that share similar interests.
Multiple Ways to Earn
Profiting from playing the mini-games isn't the only way to earn. As a land/room owner, you make money from renting your property to other users. Since demand is pretty high, you can leverage it to maximize your profits. 
Players can also earn from staking tokens earned in the game. A player can invest in a property by staking the game's token and receiving rewards in return. The amount staked will also influence your voting decision. 
NFT Drop and Business Floor Rooms
In-game assets or NFTs, such as characters, furniture, and rooms, are usable throughout Bit Hotel. The game will be dropping a new set of NFTs this month to bolster engagement and excitement. Not just this month, but for every other month that follows until the game is fully launched. 
Bit Hotel recently concluded its public IDO and private sale on Seedify, a prominent blockchain incubator, and launchpad. Last month, Bit Hotel opened its business floor rooms to entrepreneurs and partners to boost commercial activities in the metaverse. Users who acquire business floor rooms will have increased voting power, more ways to earn and higher staking returns.