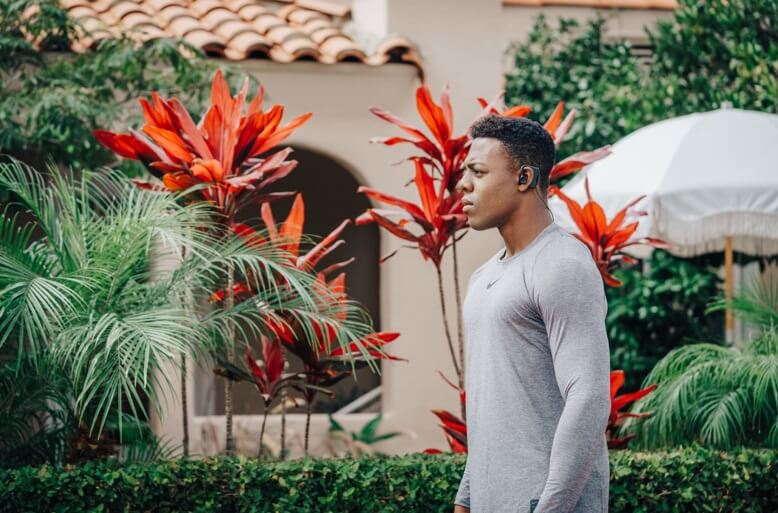 FocusBuds by Potential X are smart earbuds that uses EEG Neurofeedback to help people get into the flow state
Palo Alto, CA, Oct. 30, 2019: In today's world of open offices and constant distractions from iPhone notifications and online advertisements, it is harder and harder for people to focus. Over the course of our careers, 20,000 hours are wasted on being distracted in the workplace. Potential X wants to change this with their latest product, the FocusBuds – which Kevin O'Leary from the Shark Tank calls the "next step in the evolution of earbuds".
These game-changing earbuds are now live on Indiegogo. The FocusBuds is a pair of next-generation wireless earbuds that brings together state-of-the-art audio integrated with EEG Neurofeedback technology to help users achieve focus like never before.
The FocusBuds works by tracking the user's brain activity in real-time with embedded EEG biosensors, it then provides a gentle audio cue to alert users whenever their focus drops. This type of conditioning is called EEG Neurofeedback and works to train the users' brain to concentrate and eliminate procrastination.
Invented in the late 1950s, EEG Neurofeedback technology has been repeatedly proven to enhance performance (Gruzeier, 2016) and is as powerful as Ritalin (Fuchs, 2016). However, this technology has previously only been accessible to F500 CEOs, NASA astronauts and peak performance gurus like Tony Robbins – who spent $15,000 a week on the same technology that is now available to the general public for only $249.
Renowned NASA Scientists Alan Pope from the Langley Research Centre suggests that "embedding beneficial, helpful biofeedback in everyday activities will be a valuable contribution to society". Co-founder Sahin Ozsoy responded in detail, emphasising that this is precisely the mission of Potential X which is "to help unlock human potential by making this technology affordable and accessible to everyone."
On top of EEG Neurofeedback, FocusBuds also has real-time AI focus tracking, wireless connectivity and noise isolation among a host of other premium features. It is not hard to see why the FocusBuds are shaping up to be one of the most advanced cognitive-enhancing wearables in 2020.
About Potential X
Potential X has offices in Palo Alto and London. The company was originally founded by a group of neuroscientists, machine learning experts and entrepreneurs who came together to serve a common purpose: working together to make affordable and accessible tools for unlocking human potential.
The Potential X Focusbuds is currently on Indiegogo at over 35% off retail prices.
—–
For more information:
Chris Le
PR and Media Relations
chris@potential-x.com