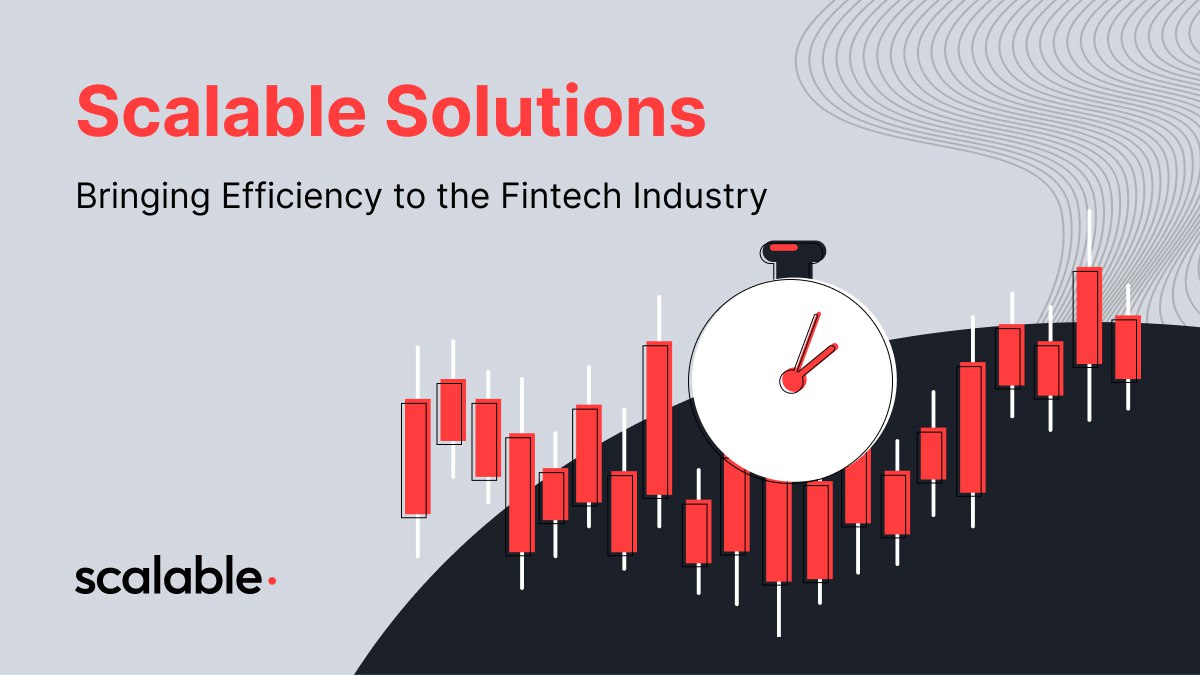 It is impossible to picture the cryptocurrency industry without exchanges. This is because they are the medium through which most of us buy and sell our tokens and are, essentially, one of the pillars keeping the industry afloat.
With the billions of dollars they process each day and the responsibility of keeping the crypto industry alive, exchanges have a lot of pressure on their hands. They have to be secure, have access to deep liquidity, process customer orders fast, and do all this without breaking under pressure. 
If there is anyone who knows this first-hand it is Valerie Leroy, the head of business development at Scalable Solutions. 
Scalable Solutions is a fintech software infrastructure company that has, since 2013, been providing trading solutions to some of the biggest crypto exchanges in the world. During their time, they have served in complicated market conditions and for a variety of exchanges, including one backed by Roger Ver, the creator of Bitcoin Cash.
At the time, the client needed well-established liquidity access from day one, as well as software that could evolve as the project grew The result of the exchange teaming up with Scalable Solutions was over $5 billion of trading volume processed in 24 hours and 1.2 million onboarded clients, amongst which there are both retail users and over 80 institutional traders. 
Needless to say, Scalable Solutions makes it its mission to help exchanges and brokers succeed, even in the very unpredictable world of crypto. Today, we speak to Valerie Leroy about Scalable Solutions and the crypto world at large:

When it came to the work you did with the Roger Ver-backed exchange, how did Scalable Solutions work with such a tight deadline and uncertain conditions?
What really helped us achieve the results we did with FMFW.io is the strength of our team and technology solution. When starting to work together with a project, Scalable basically takes the role of a CTO in the company, responsible for the A to Z maintenance of infrastructure, the hosting, the high-performance matching engine, as well as the 24/7/365 brokers' support in day to day operations. Using Scalable's white label exchange software enables our clients to set up an exchange considerably faster and with much lower costs than building one in-house. Recently our client himself calculated that a launch of such an exchange in-house would take them around 3 years and would cost over 15 mln $. We have honed and perfected the solution over the years in order to ensure that we can provide our clients with a robustly secure exchange even in limited time frames at a fraction of a cost. 
Besides this, we have a step by step process that we follow with our clients to make each stage of the exchange set-up flow naturally, so that interactions with the client are efficient and result oriented.

One of the big concerns among crypto exchange users is the platform they use being compromised. This has happened to even some of the biggest exchanges. How have you gone this long without a single incident?
Scalable employed a risk-based approach when designing our architecture. Our processes and procedures ensure that it is physically impossible to compromise the system without all key decision-makers conspiring to do so. In the vast majority of security incidents of the last decade when internal financial institutions' systems were compromised, the adversaries hacked the system from the inside. Our infrastructure is built to exclude the human factor as a security policy variable.

With the ever-increasing demand for cryptocurrency exchanges, how does your company help businesses scale their crypto operations?
First and foremost, we aim to establish an open and trustworthy relationship with our clients. We start off by understanding where they currently are on their roadmap (or if they have a roadmap in the first place) and what they wish to achieve. 
The businesses we work with are able to scale their operations and performance exponentially thanks to the unmatched white label technology Scalable offers, which can be tailored to beginner exchanges, up to trading venues with millions of users. In a sense, we become a one-stop solution provider that brings to the table fully equipped exchange, wallet and custody technology with the liquidity already built in the system. Of course, in each and every case we tailor the solution to the client's needs and requirements, whether it's a startup that wishes to move forward with a spot exchange for 10 coins, or a big financial institution looking to launch an advanced exchange with over 400 digital assets supported for spot, margin, perpetual futures trading and staking. 
We also have a strong client success team that supports our clients along their journey, ensuring that the exchange platform works as intended. Our industry expertise and network is also a valuable asset we offer our clients, linking them to well-known partners in the fintech space and helping them grow along with their user base.

What do you feel are the major challenges facing exchanges and brokers these days? 
Security,scalability and compliance are the first major challenges that come to mind. 
Clients require platforms to be attack resilient and ensure safety of the users' funds; they need the peace of mind that the exchange's security will not be breached. Considering the market history, it's a hard thing to ensure. Binance, Coinbase, Crypto.com – just last year the biggest exchanges got compromised for over 100 million dollars. The security policies should apply to every part of the system. Protection of the users can be achieved by the introduction of such features as whitelisting, 2FA, Strong Password Policy, Captcha, AntiPhishing protection, Device management. It's also important to implement the latest crypto-security standards to maintain critical cryptographic functions: MPC, whitelists, limits, role-based access controls, least privileges principle etc. 
Speaking from experience, if a year ago inquiries were mostly coming from middle-size firms and startups, today we're facing more and more institutional clients, like banks and stock, equity exchanges, established CFD and Forex companies that wish to tap into crypto. Especially for them, the challenge is the compliance towards the local regulatory requirements, that are not set in stone but rather keep evolving, pushing the digital asset brokers and exchanges to constantly adjust. 
Another important goal for clients is being able to scale the technology as the business grows. This ensures that their platform doesn't experience outages, runs smoothly and keeps users engaged and satisfied with their trading experience. 
Why do you feel that white-label services are good for exchange owners? 
White label services enable exchange owners to save valuable resources and tap into years of experience and battle-tested technology that would otherwise require considerably more time, money, and man-power to deploy. 
We have clients that joined hands with Scalable after years of trying to launch an exchange. First themselves, building a development team, then, when attempts failed, choosing amongst white label providers. This is thousands of hours and dozens of millions of dollars wasted. 
As a leading white label trading solution provider, Scalable provides a reliable trading platform, backed by the biggest and oldest players in the industry. We bring deep liquidity from day one, a list of 600+ digital assets and even more trading pairs, a broad list of advanced order types, user-friendly interface, plus customization options, – and your users are interacting with your brand at the forefront the whole time. As easy as that. 
How do you think the crypto exchange space will evolve over time? Do you think exchange owners will rely even more on services like yours to stay competitive? 
The crypto exchange space will only grow over time, but users will become more sensitive and demanding to what these venues offer. Reliability, security, choice of assets, and a seamless, user-friendly experience will be top of mind for users, so exchanges will need to cater to these needs. Plus, as more people begin to be exposed to the digital asset industry, having trading options that can entice both beginners and pro traders will be key to keeping and growing a loyal user base. 
In terms of white label services, I believe there will be a mix, with some exchanges still looking to build in house and others opting for white label solutions. Given the rapid speed at which the digital assets industry evolves, I think a majority of trading venues will definitely consider the latter, especially if they see an opportunity that requires a quick and reliable set-up. 
Because we already have a decade-strong R&D in trading and exchange solutions, one of the biggest advantages that exchanges would have from opting for a white label solution such as Scalable's is the fact that we are continuously innovating and building on top of the core engine that our global clients have already implemented and grown to have millions of users. This innovation and choice of integrations is what ultimately helps trading venues stay competitive. 
We welcome interested parties to get in touch with us and check out Scalable Solutions' infrastructure by scheduling a demo. 
Follow Scalable Solutions on social media: 
LinkedIn: https://www.linkedin.com/company/scalable-solutions-ag 
Twitter: https://twitter.com/Scalable_AG