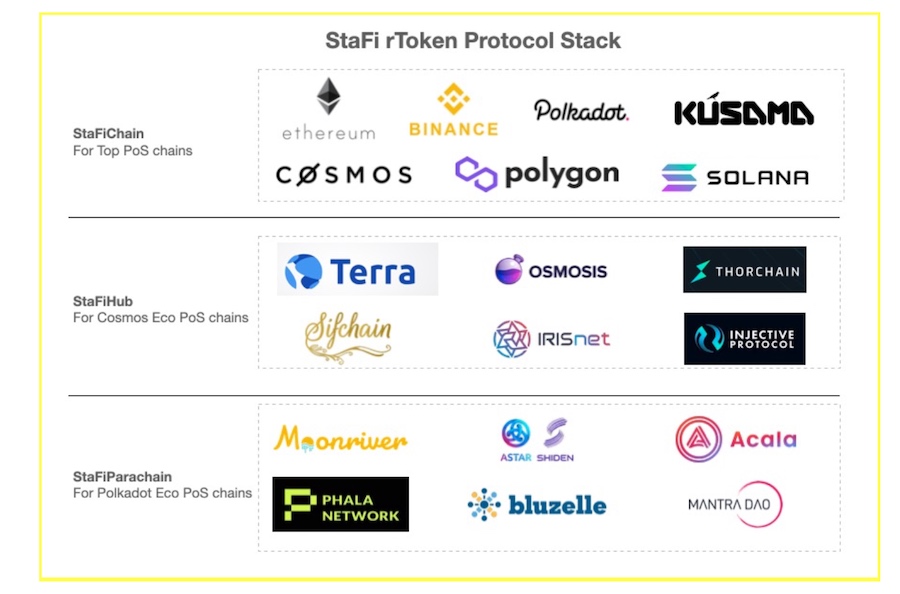 It's no secret that people love to make money from cryptocurrency, whether by HODLing tokens in the hopes of bull runs or staking tokens for interest. When it comes to the latter, the process seems straightforward on paper; lock your tokens away from a certain period of time and get interest later on. 
But it isn't that simple, especially for the average investor. First, there is the commitment of locking away tokens for any period of time. What if there is a bull run and they want to sell their tokens for a profit? What if there is a bear run and they want to sell their tokens to avoid a loss? 
The loss of access to tokens has far-reaching implications for users and this is what StaFi, a cross-chain staking protocol, is working to solve. Today, we speak to Liam Young, the Founder and CEO of StaFi about the business model and how it is changing the face of crypto staking.
How does StaFi work?
StaFi is the first DeFi protocol unlocking liquidity of staked assets. Users can stake PoS tokens through StaFi and receive rTokens in return, which are available for trading, while still earning staking rewards. rToken is a synthetic staking derivative issued by StaFi to users when users stake PoS tokens through StaFi rToken App. rTokens are anchored to the PoS tokens staked by users and the corresponding staking rewards. rTokens can be transferred and traded at any time.
Where did the idea of StaFi come from?
We have been providing Staking Service since 2018. At that time, many of our customers do not really understand what Staking is or what PoS is. More are attracted by inflationary benefits. Then we put a lot of effort into generalizing our ideas, such as holding lectures, to familiarize users with Staking. But we realized no matter how we convey our ideas to them, many still couldn't understand why the lock period of Staking is that long in PoS public chains. In our mind, more blockchains will adopt PoS consensus in the future, so that is an issue that must be tackled. Why don't we design a product that helps users with that? That was our Eureka moment.
Would you say that crypto investors are bigger on flexibility and control than investors in more 'traditional' assets?
Yes, the Blockchain technology has given the full control of the users assets from the central party, like Bank or institutions, to the owners themself. No one could move your assets if they do not have the private keys of your blockchain address. On the other hand, it does have more flexibility such as being easily integrated or transferred between different DeFi DApps. Users could circulate them in thousands of DeFi DApps to gain rewards. But we have to admit, that crypto assets and DeFi DApps are still in the early stages, its risks are relatively high for the ones who have little learning about blockchain and DeFi. I personally think all these barriers will be broken along with the gradual maturity of crypto space.
How has the market responded to the rToken so far?
StaFi has provided liquid staking solutions for 8 PoS projects, including Ethereum (ETH), Binance (BNB), Polkadot (DOT), Kusama (KSM), Cosmos (ATOM), Matic Network (MATIC), Solana (SOL), and the native StaFI token (FIS).   A couple of months ago, the TVL of StaFi has reached above 100million USDT.  Now StaFi's total locked value(TVL) reached about 53 million $USDT at the moment due to the secondary market's influence. 
StaFi now has built a fast-growing ecosystem for these staking derivatives, which we call rTokens.This ecosystem has included: 1) the third-party integrations, like Curve, Yearn and imToken; 2) DeFi DApps on StaFi chain, like the Exchange-Rate Discounting (ERD) solution called rSwap, and decentralized trading platform rDEX.
What do you think is the future of DeFi? 
StaFi will keep building the Staking Derivative infrastructure in the DeFi space. Now we are initiating to build a parallel chain called StaFiHub based on the Cosmos SDK, in order to serve the Staking Derivatives of Cosmos ECO. StaFiHub will be an important part of the expansion of the StaFi rToken ecosystem to the Cosmos ECO.
In addition to building the StaFiHub to serve the Staking Derivatives of Cosmos ECO, StaFi will also build a Polkadot Parachain to serve the Staking Derivatives of Polkadot ECO. Both StaFiHub and StaFiParachain will be the parallel chains of StaFi Chain, and assets will circulate freely among them through a cross-chain bridge. The future StaFi rToken Protocol Stack looks like this:
What is next for StaFi?
We have a lot of things planned for 2022. In Q2, we plan to release our  StaFiHub mainnet and the liquid staking SDK services to build a fully open platform for Cosmos Ecosystem. This is very important because with the StaFiHub and the liquid staking SDK, we can do much more. 
For example, we can Quickly and efficiently serve all Cosmos ecosystems (which consists of over 40 Cosmos SDK Projects) and provide them with a Liquid Staking Solution. We can also Promote Adoption with a more friendly user experience for Cosmos ecological users while enriching the ecosystem of StaFi's rToken.
How will StaFi address liquidity issues?

This will be done through rDEX, our AMM DEX. rDEX will provide our users with decentralized transaction services for rTokens by offering features like Continuous Liquidity, Lower Slippage and Asymmetrical Deposit. Users can access rDEX through its Website, official rDEX App, Twitter, Telegram, and Discord.
How Can users use and find out more about StaFi?
Users can enjoy our PoS staking options and earn rTokens for their efforts and learn more about us from our official Website. They can also enjoy our rToken App and follow us on Twitter, Telegram, Discord, and Forum. We share all of our updates and new features on these platforms.