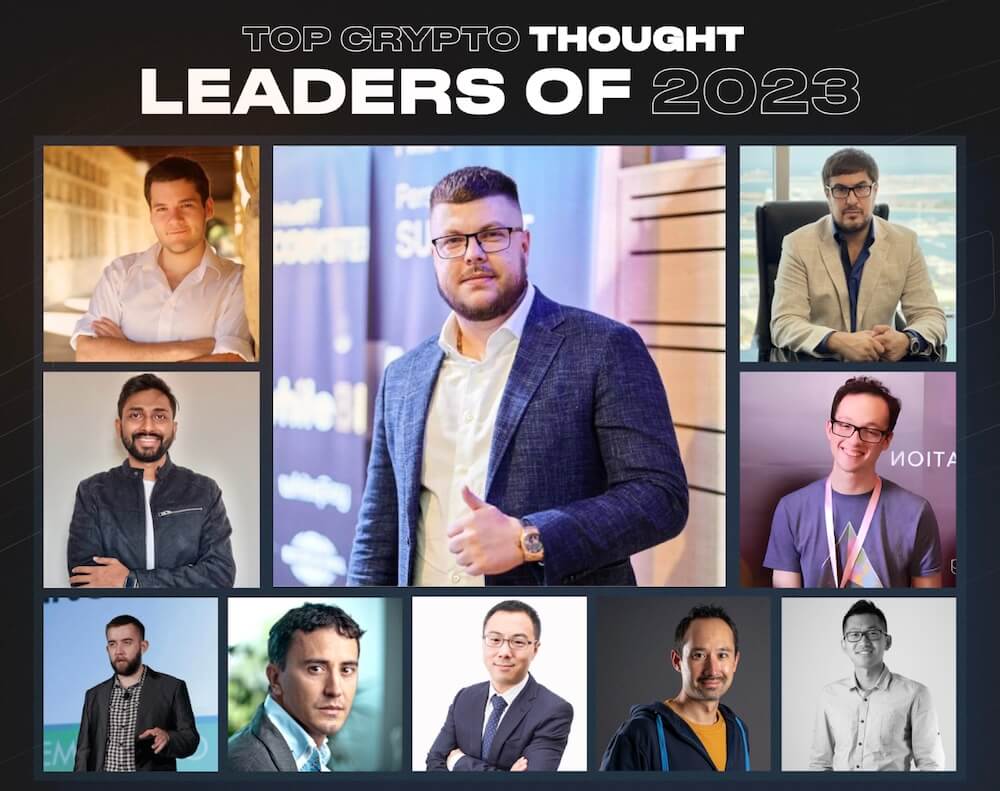 What would crypto be without its influencers and thought leaders? From the earliest Bitcoin evangelists, spreading the word when the world was ignorant, to the latest YouTubers picking new projects and sharing the knowledge, crypto has a long history of thought leaders who aren't afraid to speak up.
Some have the power to move markets, while others move communities, engaging with crypto users, educating them, and alerting them to the latest opportunities within the space. While the names of the top crypto influencers changes, as new figures enter and exit the game, their mandate doesn't: to form the hype men and women responsible for onboarding millions to crypto. Here are 10 of the best.
Bohdan Prylepa
Where Bohdan Prylepa goes, the market usually follows. As CEO of metaverse exchange QMall, Bohdan has his finger on the pulse and is instinctively aware of the narratives that will drive the next crypto cycle. The WeWay co-founder is a crypto entrepreneur with an uncanny knack for capturing the zeitgeist and shaking it by the scruff of the neck. Which is to say he's usually ahead of the curve and it pays to keep tabs on his projects. Both WeWay and QMall were voted top projects of 2022 according to Cryptorank. Proof, lest it were needed, that Bohdan Prylepa's influence runs deep.
Mykola Udianskyi
A bonafide blockchain galaxy brain, Mykola Udianskyi has a lot going for him. Listed in Ukraine's top 100 rich list, Mykola has made his money by being early and being right. Whether it's identifying the hottest startups to invest in or the most promising crypto projects to build, when the entrepreneur swings he doesn't miss. In addition to being the founder of Bitcoin Ultimatum – an innovative Bitcoin fork – Mykola is CEO of the global marketing firm PRMR, co-owner of Parlament Media Group, and a budding scientist and philanthropist in his spare time. 
Yawn Rong
Few crypto projects can justifiably be called game-changing, but STEPN is one such contender. It literally changed the game by rewriting the rule book for crypto incentivization and tokenomics. The world's first move-to-earn app, STEPN inspired a clutch of x-to-earn copycats that have failed to match the success of the dapp that started the trend. Co-founder Yawn Rong is a serial entrepreneur who's built two successful brands in Australia before entering the crypto industry in 2017. In 2021, he started STEPN with his neighbor Jerry and the rest, as they say, is history.
Sunny Lu
Supply chain management is the milieu of Sunny Lu. An engineering graduate of ​​Shanghai Jiao Tong University, Lu's first job was with IT company Netstar, and the experience he gained in this role paved the way for Vechain. Nestar played a pivotal role in developing a vehicle tracking and recovery solution in South Africa. Vechain has subsequently focused on working with automobile manufacturers, while a subsequent job with Louis Vuitton China further prepped Lu for what lay ahead. The Vechain founder is today one of the blockchain industry's best known Chinese entrepreneurs, with close ties to the business world where his technology is utilized by global brands and major corporations.
Hayden Adams
As the genius behind Uniswap, the first Ethereum AMM, Hayden is DeFi royalty. The New York founder of Uniswap Labs worked as an engineer at Siemens before diving down the Ethereum rabbit hole and emerging with a concept that has been more widely imitated, cloned, and forked than any other crypto protocol. By 2020, at the height of DeFi summer, Uniswap was pulling in more daily volume than Coinbase. The subsequent release of the capital efficient Uniswap v3 has shown that Hayden Adams hasn't lost his ability to innovate.
Sergey Nazarov
Chainlink's founder and CEO is a smart cookie with an army of memetic wizards at his back. The Link Marines may be responsible for transforming Chainlink into the most viral community in all of crypto, but its leader is the one who made it all possible. In 2017, Chainlink's solution to "the oracle problem" was proposed in a whitepaper by Sergey Nazarov and his fellow authors. Two years later, the Chainlink network launched, by which time oracles were big business and Chainlink's founder was the man whose likeness had birthed 1,000 memes. 
Jaynti Kanani
Originally known as Matic, the Ethereum scaling solution co-founded by Jaynti Kanani has evolved into the blockchain powerhouse that is Polygon. Not only has its network grown into a viable alternative to Ethereum in its own right, and boasts more daily transactions and active users than Eth, but it's since released its own zkEVM. Kanani was inspired to create Matic Network by the congestion surrounding the viral success of CryptoKitties on Ethereum. Today, he oversees a multi-billion dollar network that's inked partnerships with the likes of Starbucks and Disney. It's been a remarkable journey and Kanani has plenty more in the pipeline.
Emin Gün Sirer
Turkish-American computer scientist Emin Gün Sirer is happiest when tinkering with blockchain consensus models – or debating them with the crypto community on Twitter. The giga-brain researcher created the consensus protocol powering Avalanche and is the CEO of its lead development company, Ava Labs. Since graduating with a computer science degree from Princeton, Emin hasn't looked back, paused for breath, or possibly even slept. Avalanche was born in 2019 and rapidly risen to become one of the leading EVM-compatible networks.
Sébastien Borget
The Sandbox is a metaverse primitive that provides the foundations – or rather the land – for everything that's built next. Its co-founder and COO is Sébastien Borget, a bright spark who's capable of seeing the big picture without drowning in the details. He paints a compelling vision of the digital world in the near future, when the metaverse has become a living reality. With more than 170 brands having already snapped up plots in The Sandbox and half a million active users, Borget is well on his way to positioning himself as the king of virtual reality real estate.
Juan Benet
Even if you haven't heard of Juan Benet, you've almost certainly benefited from his inventions. The InterPlanetary File System (IPFS) creator is the daddy of decentralized storage. Benet is the founder of Protocol Labs, the research firm responsible for maintaining IPFS and Filecoin. Juan Benet studied Computer Science at Stanford University and is known for his passion for tech and science in all their myriad forms. Thanks to his efforts, web3 users have greater privacy and security in abundance.
Tagged with: QMall, Bohdan Prylepa, Mykola Udianskyi, Yawn Rong, STEPN, Vechain, Netstar, Sunny Lu, Hayden Adams, Chainlink, Sergey Nazarov, zkEVM, Jaynti Kanani, Ava Labs, Emin Gün Sirer, Sandbox, Sébastien Borget, Juan Benet, Protocol Labs, IPFS, FilecoinCrypto Thought Leaders 2023, Crypto Leaders 2023, Crypto Thought Leaders, Crypto Leaders,