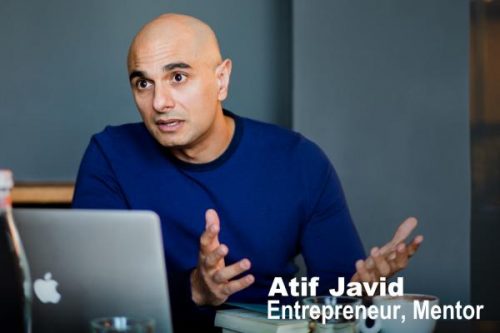 A new report has been launched by Atif Javid, showcasing the importance of valuing health over business. He is a professional business coach and mentor who helps clients grow their companies and achieve success in their personal and professional life.
Bristol, United Kingdom – August 23, 2019 /NewsNetwork/ —
Bristol-based business coach and mentor, Atif Javid, has launched a new report on why it's important for people to place their health above their business in today's world. Atif regularly posts on his website, offering tips, insights and guidance on achieving success online and growing businesses.
More information can be found at: http://atifjavid.com
The site explains that Atif Javid was able to transform both his own life and his business by studying the strategies and practices of the world's most outstanding high achievers.
He has experimented tirelessly and achieved understanding in key business areas that helped him to develop his own growth mindset and take his business to new heights.
Now he's helping other entrepreneurs to achieve success in their field, and his new report is the latest in a series of insights into the world of business.
He states: "A rewarding part of my work is empowering entrepreneurs and business owners to achieve their goals. But, the most gratifying part is watching them overcome and defeat the obstacles that stand in their way."
He adds: "My aim is to give away a large proportion of my material – for free – via this website and make that free material better than 99% of other people's paid content."
The new report covers why it's important for people to place more emphasis on their health than their business. In his work as a business coach and consultant, Atif often asks clients what their priorities are, and health is rarely top of the list.
However, it's important to take a step back and remember that nothing in business can be achieved without good health. Entrepreneurs and business leaders need to remember that their number one asset is their health.
The report highlights that good health is founded on three core elements. These are diet, sleep and exercise. Without proper attention being paid to all three, people will find their health slipping.
With these three bases covered, people will soon find that they feel more alert, have more energy, are more relaxed around the office and at home, and think more clearly and creatively.
Other benefits include looking and feeling healthier and younger, getting stronger, and reducing the likelihood of stress or anxiety arising.
This underscores how through good health, entrepreneurs are able to take charge of their life both at home and at work. It's through looking after themselves that they are able to look after their business, their staff, and their professional goals.
Full details of the report can be found by visiting: http://atifjavid.com/why-your-health-must-be-a-higher-priority-than-your-business
Additional information on Atif Javid is available at: http://reuters.com/brandfeatures/venture-capital/article?id=128308
Contact Info:
Name: Atif Javid
Email: Send Email
Organization: AtifJavid.com
Address: Bristol & Bath Science Park Dirac Crescent, Emersons Green, Bristol, England BS16 7FR, United Kingdom
Phone: +44-117-403-0628
Website: https://www.atifjavid.com/
Source: NewsNetwork
Release ID: 88908352