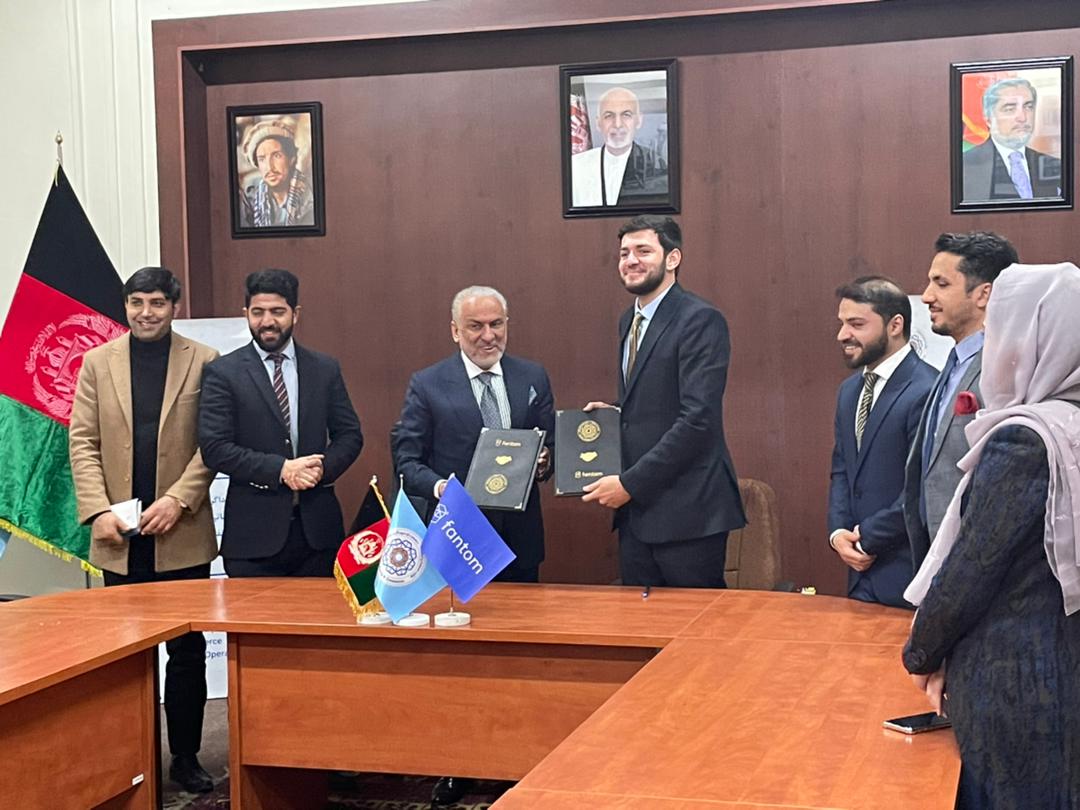 The Fantom Foundation is pleased to announce that it has signed a Memorandum of Understanding  (MOU) with the Afghanistan Ministry of Industry and Commerce to overhaul the Ministry's IT infrastructure and implement tools to secure data on immutable blockchain databases.
According to the agreement signed in March 2021, Fantom will digitize archives, establish a digital Central Business Registry (CBR), and integrate a range of blockchain solutions to increase efficiency, eliminate fraud, and bring transparency to the Ministry's national operations. 
Highlights of the Pilot Program:
The Afghanistan Ministry of Industry and Commerce and Fantom have signed a Memorandum of Understanding (MoU) to

upgrade the Ministry's information infrastructure

.




Under the contract terms, Fantom will

digitize archives

, create a

Central Business Registry

(CBR), and implement

blockchain-based tools

for transparency and efficiency.




Upon successfully demonstrating the prototype, The Ministry of Industry and Commerce and Fantom will explore contract agreements and a

long-term, formal relationship

.
A fully functioning prototype that will extend across all Ministry systems is expected to be completed within four months. Following the successful demonstration of the software, Fantom and the Ministry will discuss long-term plans for continued development. 
Fantom's agreement with the Ministry falls under the auspices of a national initiative for the digital transformation of Afghanistan. By bringing transparency and innovation to the nation, the Afghan administration wishes to showcase to the world the country's fortitude and capacities to adapt and solve major national challenges. 
"This agreement is one in a series of partnerships that Fantom has established with Afghan government offices," stated COO Barek Sekandari, "and we are thrilled that the Ministry has chosen Fantom to transform their IT infrastructure into one of the most modern systems worldwide. We look forward to scaling with their operations and helping them stimulate private sector growth to improve the lives of Afghan citizens."
Who is the Afghanistan Ministry of Industry and Commerce?
The Afghanistan Ministry of Industry and Commerce seeks to create a flexible, proficient, and viable private sector across Afghanistan by driving inclusive, sustainable economic growth and connecting the private sector with needed resources for innovation.  
Who is Fantom?
Fantom is a global technology firm offering smart-contract-driven blockchain solutions to enterprises, governments, and consumers worldwide. Built on a fast, scalable, and secure layer-1 infrastructure, the Fantom platform addresses a range of real-world use cases, including supply chain, health records, smart education, and decentralized finance.