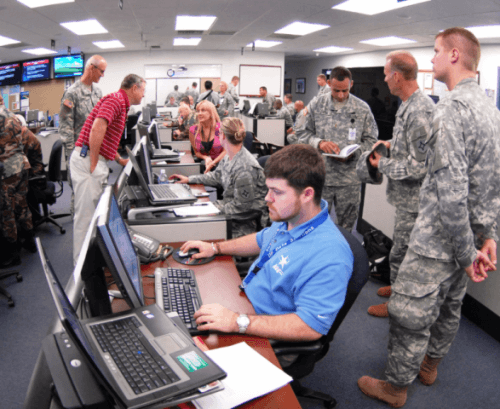 Informargin Digital, a Houston digital marketing company has launched custom VoiceBot solutions for after disaster insurance support. VoiceBots help insurance adjusters and agencies automate insurance renewal calls, schedule appointments, and speed up claims processing & resolution.
Houston, United States – September 6, 2019 /NewsNetwork/ —
Houston digital marketing company Informargin Digital announced the launch of VoiceBots to support insurance agents and adjusters. VoiceBot technology is expected to benefit victims of natural disasters, helping insurance professionals contact customers while in the field, leading to faster claims and resolutions.
More information about Informargin Digital is available at https://www.informargin.com
Hurricane Dorian is a category 5 storm that caused major damage in the Bahaman Islands and is threatening the Atlantic seaboard of Florida, Georgia and the Carolinas. When it hits, it will causing flood and storm damage well inland.
In Florida, nearly two years after hurricanes Irma and Michael, more than 30,000 insurance claims remain open, highlighting the need for improved claim processing, real-time communication, and effective claim resolution in any disaster area.
On Tuesday morning, national news agencies reported, "The eye of Hurricane Dorian is very large, measuring more than 57 miles in diameter. While the center of the storm remains about 70 miles from shore, the eyewall, the strongest and most dangerous part of the storm, is only 40 miles from the coast. As this storm continues to move northwestward, it will get dangerously close to the shore. It is highly likely with an eye this size that even if there is no landfall, the dangerous eyewall will thrash the coast."
VoiceBots from Informargin Digital connect insurance professionals with customers in the aftermath of a natural disaster. Traditionally used to generate leads, sales, and customer retentions, voice bots offer automated customer calls and appointment scheduling from a smartphone or desktop.
Insurance adjusters use the VoiceBot's enrollment feature to keep clients informed about the status of their claim and handle or transfer calls while in the field. VoiceBots can also be used to generate automated reminders for insurance renewal. The AI-powered call assistant can be customized to a wide range of use cases and scenarios.
Informargin Digital is a full-stack online marketing agency in Houston offering a wide range of solutions including SEO, reputation management, video marketing, mobile apps, local ads, and social media management.
According to a spokesperson for the Houston VoiceBot company, "Hurricane Dorian is already creating havoc in North Carolina. Our VoiceBot solutions will help to improve real-time connectivity between homeowners and businesses affected by storm damage, insurance adjusters, agencies, and carriers."
Informargin Digital is Houston's leading provider of digital marketing solutions for non-technical businesses. For more information about VoiceBots and other solutions, call 832-462-7446 or visit the URL above.
Contact Info:
Name: Luke Coolidge
Email: Send Email
Organization: Informargin Digital
Address: 4301 Ascot Ln, Houston, TX 77092, United States
Phone: +1-832-462-7446
Website: https://informargin.com
Source: NewsNetwork
Release ID: 88915977