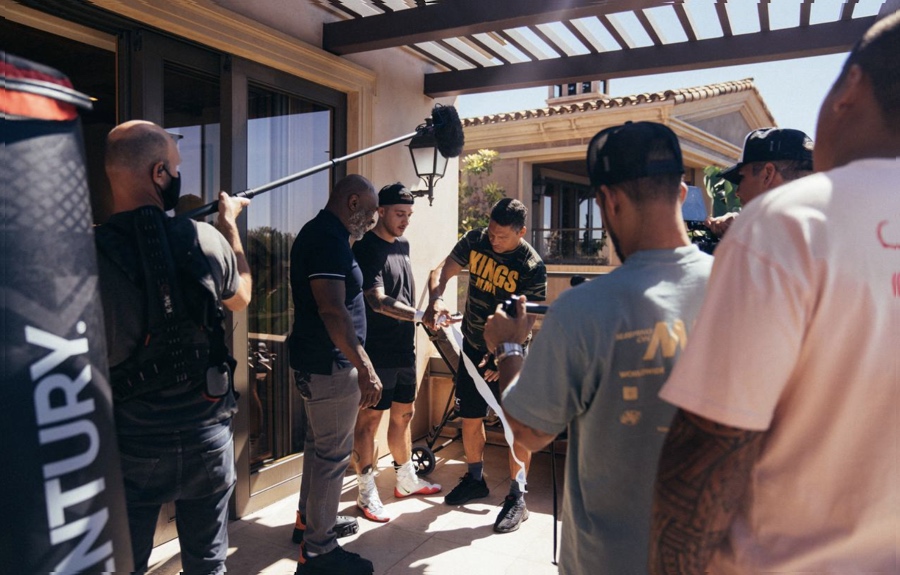 Like other crypto-assets, the price of NFTs are subject to the mood of the market. If digital currencies like bitcoin and ethereum are performing well, NFT collections are generally likely to be on a similar trend – and vice versa. Which is why NFTs that unlock valuable real-world experiences are increasingly coming under the spotlight. 
While not exactly market-proof, NFTs linked to IRL privileges – VIP access to a concert or yacht party, say, or a meet-and-greet with your favourite movie star – have a timeless appeal. Just ask Charles Read.
The Hip-Hop Heavyweight… and the Heavyweight
28-year-old Read is the co-founder of Web3 investment fund Rarestone Capital and an avid NFT collector. Like many of his generation, the Englishman's collection largely consists of tokenised art – CryptoPunks, CloneX and their ilk – though he is bullish about the sort of 1-of-1 tokens that confer real-world benefits on the holder.
Two recent purchases broadened Read's mind about the potential of such use cases. One earned him a sit-down with pioneering hip-hop producer DJ Premier in his New York recording studio. The other, a personal training session with boxing icon Mike Tyson at the latter's 418-acre ranch in Southern California. Tyson and Premier are just two examples of celebrities embracing the NFT model to bring more value to their audience.
"Blockchain has helped countless creators and artists, but it's cool to see other public figures with large followings leverage NFTs," says Read. "When I heard about the Tyson and Preemo drops, I knew I had to bid."
Tyson's limited-edition series included a range of unlockable experiences, from an all-expenses-paid trip to the fighter's training facility to an 'Elevate with the Champ' session: ostensibly, that token entitled you to kick back on the set of Tyson's Hotboxin' podcast and blaze a blunt with the "Baddest Man on the Planet."
"In the past, it wasn't possible to get as close to your idols," says Read. "Maybe you could grab a minute at a book signing, or ask a question at a speaking event, but that was as far as it would go. Now we're seeing all kinds of cool use cases – and the issuer can maintain a level of control that they're comfortable with.
"To be able to chop it up with Mike over the course of a day, and in a setting where he felt comfortable, was unforgettable. You're talking about a living legend, the youngest heavyweight champion in history. There'll never be another like him."
Tyson is clearly all-in on NFTs; in April he released another collection on Binance, featuring signed merch such as gloves, shorts and workout gear. The boxer also teamed up with renowned crypto artist Henric Aryee to drop a never-before-seen painting. Interestingly, "Iron" Mike's namesake – current heavyweight kingpin Tyson Fury – has followed suit by launching his own collection; one that includes signed and framed hand-wraps from his third showdown with Deontay Wilder.
Evidently DJ Premier shares the pugilists' passion for digital tokens. Last year, the 3x Grammy-award winner dropped his Golden Era Future series, composed of unreleased beats and artwork, on Nifty Gateway. And Premier's been on the buyer's side of the transaction too, having purchased a Marshall Mathers Edition NFT from Eminem's maiden collection.
"DJ Premier is a true hip-hop immortal, he's worked with just about everyone from Dr. Dre and KRS-One to Biggie, Nas and Big L," enthuses Read. "I grew up listening to Preemo and he's been a big inspiration to me as someone who never seemed to slow his hustle. Spending time with him, you get an insight into just how much effort and passion goes into the craft. As a lifelong fan, it was really eye-opening to see how he works and does his thing.
"Rarestone actually threw a party out in Miami for Bitcoin Miami 2021 and it made sense that we honoured the drop – so we called the event Golden Era Future. Naturally we asked Preemo to come down and do a set, and he did. Something he wouldn't usually do, so that was cool."
Only the Beginning
NFT sales topped $17 billion last year, up from just $94.9 million the year before. But amid recent market turbulence, some NFT projects and collections have seen their value drop. NFT sales have also declined from last year's peak, leading some to wonder whether it's "the beginning of the end" for the sector. 
Read, who invests in both a personal and professional capacity, isn't remotely worried. "It's always the beginning of the end when things cool down or FUD causes a mass sell-off," he laughs. "Sometimes you need to take a step back and assess where we are. We have media companies like Tally Labs turning NFT avatars into intellectual property for films, we have award-winning filmmakers like Kevin Smith tokenising movie projects, and we're seeing lots of cool developments in the metaverse.
"Critics like to point at projects that tank or plateau and claim it's indicative of a systemwide failure, it's just not accurate. NFTs are here to stay."