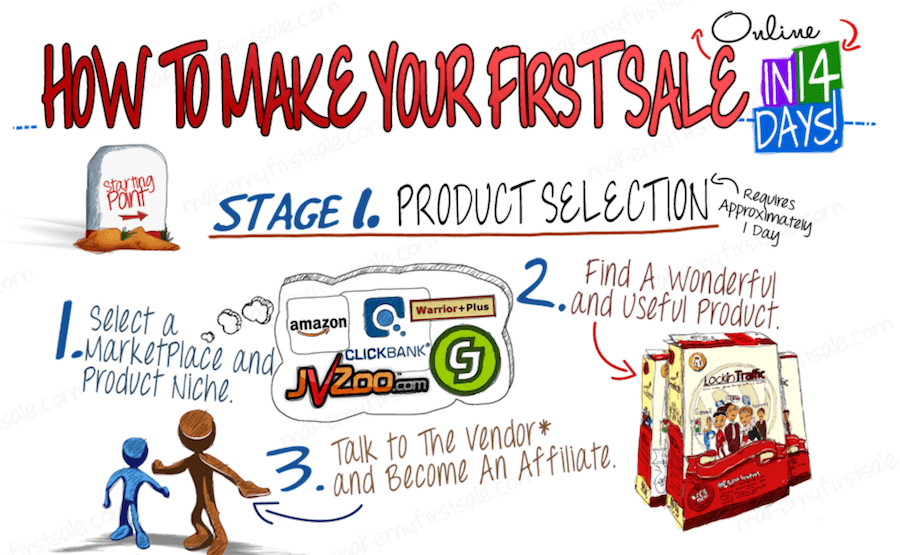 We all want to get into digital commerce and start some kind of business, on the internet. Here's an infographic I've created about eight years ago based on an affiliate marketing case study that I've done myself.

Affiliate Marketing is considered as the easiest way to start doing online business. But the complicated learning phases could make people walk away from it. The scope and profit on affiliate marketing is much bigger over the internet. An Infographic is by far the best way to demonstrate any idea or marketing plan. As it is a visual representation of information, data and knowledge, the viewer get a very clear idea about whatever the graphic is built for. That could be the main reason why the author has chosen this particular medium instead of a video or ebook to teach newbies how to make their first sale online.
Everybody wants to know how to sell online. But only a very few people actually understand the steps associated. Mervik Haums presented the infographic with the intention of providing a complete, free training on How to Make Your First Sale. It explains the different steps or phases in making one's first sale online. The infographic visualizes three main stages to reach the fourth and final stage of start selling online.
The graphic shows how exactly to promote a website through organic traffic generation, referral/direct traffic building and pay per click traffic. It also explains why steps like spending some time commenting on popular and related blogs, having active engagement in social circles etc. are so important. It also suggests to add a product video to YouTube and promote it, and to start discussions in forums on related topics.