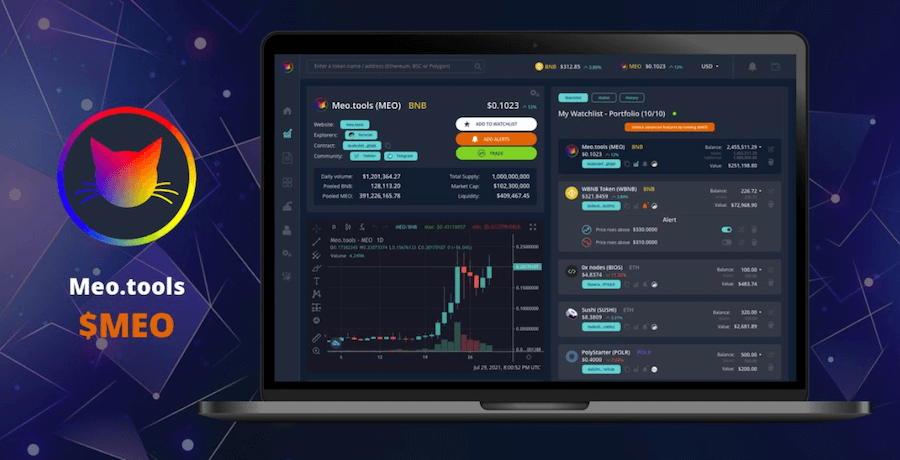 2021 is arguably the best year for the crypto industry so far. In the last 11 months, the industry has witnessed an explosion in the number of projects and collaborations completed. The crypto market has also seen a plethora of coins that gained massively, effectively making it one of the biggest financial markets in the world today.
But this growth has created a tricky situation for traders; asset tracking is now more difficult than before. Four years ago, because of the fewer assets in the market, crypto traders and investors could easily track the assets they were interested in. Today, the proliferation of tokens makes it difficult to track interesting projects and gather enough data to make important trading decisions.
Although traders have tried to manage the situation, the best way to keep track of every asset in one place without checking out multiple websites is an all-in-one tracker tool that does exactly that. MeoTools is that product. But MeoTools is much more than just a tool; it is an ecosystem.
What is MeoTools?
MeoTools is an all-in-one tracker ecosystem that provides traders with various features and advanced tools. Founded in 2021 by Tony, MeoTools is built to help traders stay on top of their trading with access to every tool that they need in one place. The platform is built with traders in mind; every feature is designed to help traders become better with ease.
According to Tony, MeoTools is an ecosystem for traders, investors, and anyone seeking a safe, secure, simple, but effective place to explore the crypto market. Tony noted that MeoTools helps traders make better market decisions using the tremendous advantage of market information available at their fingertips. To make this a reality, MeoTools has these features:
Features of MeoTools
MeoTools' features are divided into 6 categories:
Explorer
MeoTools offers advanced chart tools with which traders can perform technical analysis. The chart feature gives live information about crypto assets without latency. It makes it easy for traders to check price movement, plan their trades, and switch between assets without losing time. Traders will also have information about projects directly linked to the asset.
Asset Tracking
As an all-in-one tracker, MeoTools provides traders with the perfect tracking tool to keep an eye on their portfolios in one place. The tracker permits customizing so that traders can set their parameters and get instant alerts when those parameters are triggered. They can set the tracker to display traders' assets and balances at a  glance. As of now, MeoTools supports assets built on the Binance Smart Chain (BSC). In the future, it will support assets built on Polygon and Ethereum.
Asset Swapping
By integrating PooCoin and Pancakeawap, MeoTools makes it easy for traders to swap assets instantly in a secure environment. Asset swapping on decentralized exchanges forms an important part of crypto trading since many assets are not listed on centralized exchanges. MeoTools' provides a simple-to-use platform with a customizable interface and tools to make trading efficient.
Traders can now relieve alerts on the go without checking different platforms simultaneously. With MeoTools' alert feature, trading alerts are pushed to traders through different platforms of their choice. These platforms are mobile, desktop, Telegram, email, Skype, Slack, etc. With this feature, traders have the advantage of entering or exiting market positions at the best time. 
Governance
As a true crypto ecosystem, MeoTools launched its utility token, MEO, for governing the platform. Using Meo, traders can vote, tier, pay for swap fees, trade, and hold assets on the platform. MEO has a hard supply capped at 1 billion tokens and is available on Pancakeswap. The purchase protocol incentivizes traders to purchase bonuses between 10% and 20% of the total token purchased.
According to its whitepaper, the team will launch the MeoTools mobile app in 2022. The mobile app will feature a mobile wallet and all other aforementioned tools.