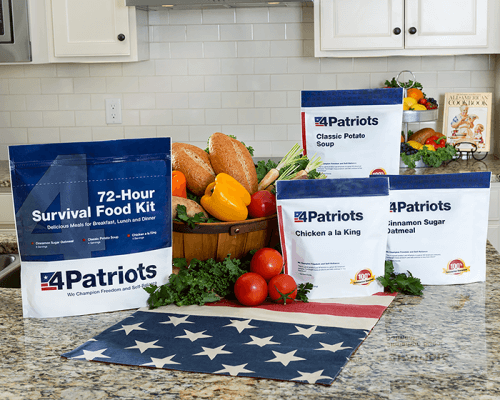 Food Business News reports a growing trend of consumers making food choices based on nutrition rather than sustenance. Nutritious 4Patriots Survival Food can last up to 25 years.
Nashville, TN , United States – August 30, 2019 /MarketersMedia/ —
About 25 percent of American adults are attempting to manage their health through food, while 80 percent of consumers have adopted a "food as medicine" approach to eating, according to Food Business News.
Food and beverage industry analyst Darren Seifer says that while food used to be primarily about taste and sustenance, "What we see is an increase in the number of people who are trying (food) products to make themselves better in the long term."
The article states that in the past, most consumers generally changed dietary habits only when faced with a direct threat to their wellbeing. Now there is a trend to treat food as a means to prevent or manage health conditions.
"We've known for a long time that the nutritional quality of food one eats is connected to their general health, but it's good to see that people are becoming more proactive about their diets," said Allen Baler, Partner at 4Patriots.
"For years now, one of our major goals at 4Patriots LLC has been to provide survival food that is not only good tasting but also nutritious. As important as eating healthy foods is now, it will be even more crucial for people when they are dealing with a survival situation following a crisis."
Baler's company provides a variety of products, including survival food, which help people become more self-reliant and independent. He recommends stocking up on 4Patriots Survival Food, which has a shelf life of approximately 25 years for most items.
4Patriots Survival Food meals are offered in five different kits – 72-hour, one-week, one-month, three-month and one-year. The meals can be prepared in less than 20 minutes, and they require only boiling water.
The food is contained in easy-to-store Mylar pouches, which keep out air, moisture and light. They are tucked inside tough, stackable totes that are discreet and store anywhere, including the basement, attic, garage, cabin or even an RV.
"Survival food is just one of the products we offer to help people prepare for an uncertain future," Baler said.
"In addition to a wide variety of survival food for breakfast, lunch, dinner and dessert, we offer a solar-powered generator, a water purifying pitcher, a power hub for your car battery, a power cell for electronic devices, health-related products, and much more.
"Our customers tell us that the single best thing about preparing for a disaster is that they now have peace of mind. No matter what happens, they'll be ready."
4Patriots provides emergency food products that are shelf-stable for 25 years. 4Patriots Survival Food kits are made without any genetically-modified products, preservatives or fillers. The kits are available in 72-hour, one-week, four-week, three-month and one-year supplies.
Contact Info:
Name: Timothy Boyle
Email: Send Email
Organization: 4Patriots LLC
Website: http://www.4patriots.com
Source URL: https://marketersmedia.com/more-people-managing-their-wellbeing-through-healthy-eating-4patriots-llc-suggests-stockpiling-nutritious-survival-food/88913282
Source: MarketersMedia
Release ID: 88913282