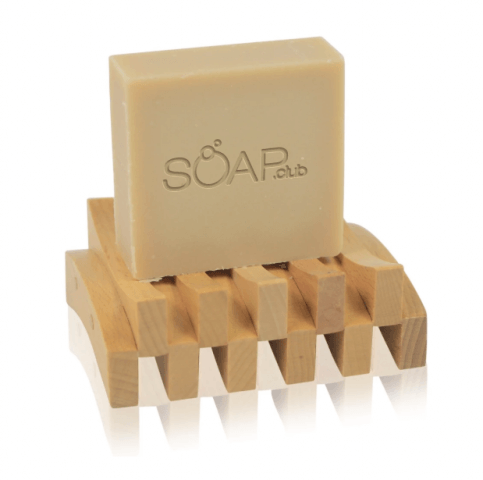 Soap.Club, a manufacturer of hand-crafted artisan soaps, has announced its popular Sandalwood Soother Soap Bar as its "Soap of the Month". All ingredients are natural, organic and biodegradable.
Vaughan, Canada – August 30, 2019 /PressCable/ —
Soap.Club has announced its popular aromatherapy soap, Sandalwood Soother, as the "Soap of the Month" for August. This family-owned business is dedicated to delivering premium quality handmade soaps using natural and organic ingredients. Sandalwood Soother is a refreshing blend of sandalwood, organic shea butter, and non-GMO essential oils and fragrances and is available on Amazon.
"The warm, woody aroma of Sandalwood Soother natural soap will send your stresses packing. Uniquely unisex, this handmade soap is a feel-good favorite that pampers your skin while soothing your senses," said a spokesperson from Soap.Club. "Loaded with anti-oxidants and vitamins, our soap reduces the appearance of fine lines and wrinkles, and helps soothe and moisturize itchy, dry skin, which may be associated with acne, eczema or psoriasis."
The "Soap of the Month" program from Soap.Club is a popular subscription plan that provides access to the company's limited-edition products, pre-launch specials, luxury collections, surprise bonus samples and additional savings. This membership plan is available on the company's website for $11.70 per month.
Soap.Club uses the old-fashioned cold process to make its Sandalwood Soother; a process that, according to the company, ensures the creation of a high-quality, natural product with a long-lasting scent. The sandalwood soap is hand-crafted from mixing the recipe, cutting, inspecting and packaging. All the natural oils used in this product are not processed, but raw, and are all non-GMO. Also, these soaps do not contain any sulfates, parabens, preservatives, petroleum or animal products.
Recommending Sandalwood Soother, a delighted user mentioned, "The scent of the sandalwood aromatherapy just melts away stress of the day and helps you relax. It was not overpowering; my husband and I loved it. It left our skin feeling soft, smooth and silky. To my surprise, it was not oily at all, given it had nourishing oils like olive oil, coconut oil and shea butter. It did not dry my skin and use of lotion after the bath was not needed. The bar lathers well, and I even shave with it. I even use it on my 4-year-old, and I could see that his eczema has improved. No more complaints of itchy skin. I would recommend this soap."
Those interested in learning more about Soap.Club's "Soap of the Month" program and handmade soap collection, should visit the company's website or Amazon storefront.
###
Contact Info:
Name: Customer Support
Email: Send Email
Organization: Soap.Club
Address: Bldg 13-3120 Rutherford Rd. Suite 342c, Vaughan, ON L4K 0B2, Canada
Phone: +1-844-762-7258
Website: https://soap.club/
Source: PressCable
Release ID: 88913625