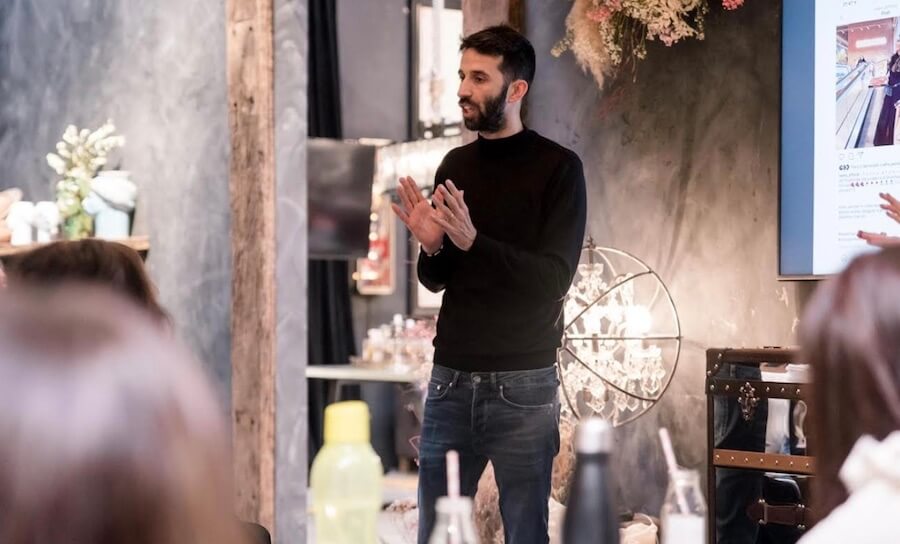 Digital marketing specialists such as Andrea Bosetti have constantly recognized this process and have dedicated much of their time to generating actions that can contribute to empowering people in this aspect, to expand the reach of companies in social media.
Since his youth, Andrea has always been focused on relating directly to marketing. Initially, event management was his closest encounter with this area. He had the opportunity to organize weekly presentations in discotheques where he worked, having under his responsibility groups over 1000 people.
Later on, he gave way to the business environment, starting his first two entrepreneurship, which achieved great success in three years and which he later sold to undertake his biggest project at the time: Coverstore. It is a store dedicated to the design and commercialization of accessories for cell phones.
As marketing director and founder, Andrea had greater responsibility. However, he stood out for his passion and focus on growing this business alongside his partners. In a few months, the company that started with a budget of 9 thousand euros, managed to reach a turnover level of 12 thousand euros and expand with more than 100 branches.
In 2018 they sold Coverstore and founded AGL ASTE INMOBILIARI, a real estate agency, whose growth was similar to that of their previous project. It reached a turnover of 1.5 million euros in a short time and its great boom in social media.
The era of transformation
Andrea's previous experiences allowed him to observe the role of social media and the digital environment as an elemental part of the growth and positioning of a company. To transmit this information and guiding companies and people about this, he founded Marketing Digital Mind, an academy specialized in consulting and training about everything related to digital marketing.
For Andrea, generating in others the knowledge about the transformation of the communication process where all organizations focus their attention on social media was enough motivation to undertake this idea in 2018.
In just one year he achieved remarkable success. During 2019 the academy managed to train around 700 companies, 60 classrooms, 30 companies in a row in consulting, and to have 10 new specialized collaborators.
This shows not only the effectiveness of the workshops but has also made Andrea one of the most influential people as a personal social media coach.
Determination and self-control
Two elements that have defined Andrea's career as a professional digital marketing specialist and digital media trainer are determination and self-control. He emphasizes that in his journey the defeats and errors have been inevitable. However, his ability to recover and continue to focus on his goals has been above these processes.
Likewise, he points out that will power has allowed him to advance in every aspect after making a mistake or facing failure. Even amid difficult situations, Andrea could continue, drawing from each negative experience an aspect of learning to live new experiences.
Learn as much as you can
One aspect that has undoubtedly favored Andrea's growth has been learning. From the beginning, he was focused on one goal and this motivated him to draw from each of his professional and personal experiences learning that will take him a step forward on his path.
In the discotheques for the management of events, as an entrepreneur, in the growth of his own business, of every aspect of his professional life, he has absorbed all the knowledge possible to later apply it and share it as an expert through his academy.
He ensures that wherever a person is, he can acquire learning and transform it for his benefit, for his growth and to get closer to his objectives.
Currently, Andrea is dedicated full time to working within the academy. His current goal is to double the previous year's figures by 2020. Although he assures that the COVID-19 in principle could represent a threat to this.
This situation has allowed him to generate new ideas, transform his mentality, and incorporate more innovation into his services.      
This post is tagged with: Andrea Bosetti