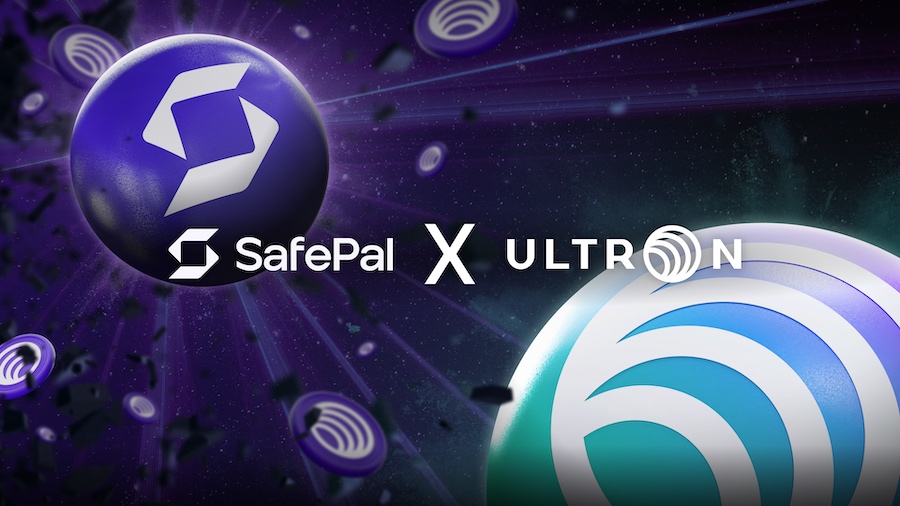 SafePal, the first hardware wallet portfolio backed by industry giant Binance Labs, now supports Ultron Foundation's ULX coin. This makes ULX available to more than 6 million verified users of SafePal and opens opportunities for crypto enthusiasts to support the Ultron project.
SafePal and Ultron: Pushing for Crypto Mass Adoption
The inclusion of Ultron's ULX coin in SafePal's platform represents a significant stride towards Ultron's objective of promoting the mass adoption of cryptocurrencies. With SafePal's reputation for user-friendliness and its extensive reach across various platforms, it provides an ideal gateway for users worldwide to access ULX easily. This move not only amplifies the accessibility of the ULX coin but also empowers individuals to join the crypto revolution, thereby fostering widespread crypto engagement. 
Ultron Foundation: Opening Possibilities for ULX Hodlers
Ultron's move to make ULX available on SafePal's hardware wallet ushers in a wave of opportunities for ULX hodlers and significantly aligns the coin with other influential blockchain projects. This integration opens up a new potential for ULX, offering hodlers access to a secure, trusted, and user-friendly platform for managing their assets. Additionally, the wide reach of SafePal's ecosystem allows ULX to tap into an extensive network of crypto enthusiasts, further expanding its user base. This step serves as a strategic move in penetrating deeper into the crypto community, bolstering the credibility of ULX and adding considerable value to it.
In recent news, ULX has been garnering significant traction in the crypto world thanks to its continuous listings on top centralized exchanges. Each new listing amplifies the coin's visibility, broadens its accessibility, and enhances its appeal among potential users. This trend is a testament to the growing recognition of ULX in the global crypto space and is a well-calculated move that positions ULX for increased growth and user adoption.
SafePal: Redefining ULX Accessibility
The availability of Ultron on SafePal's seamless and intuitive app, brings an innovative approach of owning ULX coins in one of the best technologies for hardware wallets. SafePal has been pivotal in dismantling barriers in the crypto world with its secure and smart crypto management solutions to the pros and rookies alike. The top-notch security implemented on SafePal is lauded by its users. The private keys of its users never leave their non-custodial wallets, ensuring that access is exclusive to the user alone. This makes storing ULX and completing crypto transactions more convenient on SafePal's technology.
SafePal stands out through its wide-ranging cross-platform support. Its wallet is available as a software mobile wallet on iOS, Google Play, and Android and has extended its reach to include web browsers such as Chrome, Firefox, and Microsoft Edge. 
Moreover, Ultron Foundation extends its reach by using SafePals presence in 196 countries. The hardware wallet is also known for its community-focused approach, frequently adapting to feedback and delivering user-focused improvements. This reinforces SafePal's status as an industry leader and strengthens ULX reputation in the crypto community.
About SafePal:
SafePal is a pioneering blockchain technology company offering comprehensive, secure, user-friendly crypto management solutions. Trusted by over 6 million users worldwide, SafePal is making cryptocurrency more accessible to everyone. Learn more…
About Ultron Foundation:
The Ultron Foundation is a trailblazing Layer-1 blockchain company specializing in innovative DeFi solutions. It has quickly amassed a global following, becoming the fastest-growing blockchain project in the industry.
Learn more about Ultron Foundation
Join the community!