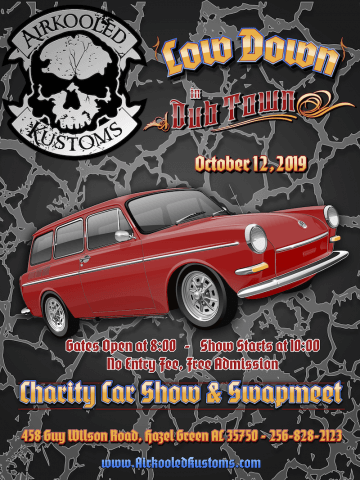 Airkooled Kustoms, the Volkswagen and Porsche restoration shop in Hazel Green, AL, announces its annual charity car show, Low Down in Dub Town, will take place Sat., Oct. 12, 2019.
Hazel Green, United States – September 7, 2019 /PressCable/ —
Classic Volkswagen and Porsche charity car show at Airkooled Kustoms in Hazel Green, Alabama on Sat. October 13, 2018. Registration and admission are free. Gates open 8 a.m. Family-friendly show.
Airkooled Kustoms, an internationally recognized classic Volkswagen restoration and customization shop, announces its twelfth annual car show, Low Down in Dub Town. The event will be held on the shop grounds in Hazel Green, Alabama on Saturday, October 13, 2018 from 10:00 a.m. – 4 p.m.
Gates open at 8:00 a.m. for a day of family-friendly fun. The event is free to the public, featuring an engine blow, car contest, tech talks, and food vendors. Guests can tour the car restoration shop, meet the Airkooled Kustoms Krew to ask questions about classic Volkswagens and Porsches, shop for classic car t-shirts, and help support our nation's veterans through the Train a Dog, Save a Warrior charity.
Guests can purchase tickets for our annual engine blow 50/50 at registration. The Airkooled Kustoms krew has been hard at work bringing an unsalvageable engine back to life long enough for this highly-anticipated event. At 2:30 p.m., the engine will roar to life, and a timer will mark the seconds or minutes between ignition and complete and catastrophic engine failure. The 50/50 winner will be the ticket-buyer who guessed the time closest to the official engine failure time. The proceeds of the 50/50 will go to support Train a Dog, Save a Warrior.
"Here on the Darkside, we hold Liberty pretty dear to our hearts – and have tremendous gratitude for the men and women in our armed forces who sacrifice so much to ensure it," said Eric "Spook" LeClair, Founder of Airkooled Kustoms. We also love our pups. So when we learned about this organization, we wanted to help. Seeing the bond between man and beast, and recognizing how the support of a well-trained service animal can change lives, we're proud to make TADSAW this year's charity for the second year in a row. Donations from registration and the engine blow 50/50 will help TADSAW train dogs to help warriors live full, productive lives after giving so much of themselves in service of our great nation."
There is no entry fee for show cars, but pre-registration on the shop's website is requested. Local classic Volkswagen enthusiasts are encouraged to enter their vehicles for a chance to be awarded a crowd favorite trophy, designed and built by the shop's own Mr. Culp.
Airkooled Kustoms is located at 458 Guy Wilson Road, (431/231 North to Pauline Drive, then straight onto Guy Wilson Road). For more information about the event, please visit Airkooled Kustoms online at: www.AirkooledKustoms.com or call (256) 828-2123.
About Airkooled Kustoms
Airkooled Kustoms (www.AirkooledKustoms.com) is a world-renowned classic Volkswagen restoration and customization shop located in Hazel Green, Alabama. Founded in 2008 by custom car restoration industry leader, Eric "Spook" LeClair, the shop is known for restoring and customizing vintage Volkswagens.Classic Volkswagen and Porsche Charity Car Show
Contact Info:
Name: Susan Anderson
Email: Send Email
Organization: Airkooled Kustoms
Address: 458 Guy Wilson Road, Hazel Green, Alabama 35750, United States
Phone: +1-256-828-2123
Website: http://www.AirkooledKustoms.com
Source: PressCable
Release ID: 88916429