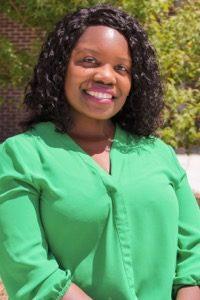 Alpharetta psychology practice, Positive Living Psychotherapy, welcomes a new Licensed Professional Counselor to the therapist team. Natasha Goodman, LPC, is now accepting patients at the North Point area office.
Goodman brings with her 10 years of experience in mental health and is near completion of her Ph.D. in Psychology at Capella University. She received a Bachelor of Science from the University of Georgia, graduating with a minor in child and family development, and earned a Master of Science in Mental Health Counseling from Walden University.
Fully licensed in the State of Georgia, Goodman provides individual, family, and couples therapy for clients ages 15 to 65. She uses several therapeutic techniques to help clients address depression, anxiety, effects of past trauma, self-esteem issues, relationship difficulties, blended family difficulties, and life stage stressors.
"It's my goal to help my clients create a solid foundation and achieve healthy, fulfilling relationships so they may live their best lives," said Goodman. "I strive to provide a comfortable environment for clients that is both welcoming and culturally sensitive."
Goodman joins Clinical Psychologist Maureen Keown who opened Positive Living Psychotherapy in 2005. Keown's practice is based on the therapeutic philosophy that as people become more aware and accepting of themselves, they are more capable of finding a sense of peace and contentment in their lives.
"At Positive Living Psychotherapy, we view each person as an individual capable of living life to its fullest potential," said Keown. "We are focused on creating a friendly and non-judgmental environment for each client with the goal of empowering them to succeed in making real, lasting changes in their lives."
About Positive Living Psychotherapy
Positive Living Psychotherapy is a private practice in the North Point area of Alpharetta, GA. The practice specializes in treating adults and older adolescents with a wide range of issues, disorders or concerns using well-researched modalities of psychotherapy. Located off of Georgia 400 and North Point Parkway, the office welcomes clients of any race, ethnicity, sexual orientation, gender expression, religion, and nationality. To learn more about Positive Living Psychotherapy or to request a free phone consultation with Dr. Maureen Keown or Natasha Goodman, LPC, visit www.positivelivingpsychotherapy.com.
Contact Info:
Name: Dr. Maureen Keown, Licensed Clinical Psychologist
Organization: Positive Living Psychotherapy
Address: 5755 North Point Parkway, Suite 216, Alpharetta, GA 30022, United States
Phone: +1-770-552-0333
Website: https://www.positivelivingpsychotherapy.com