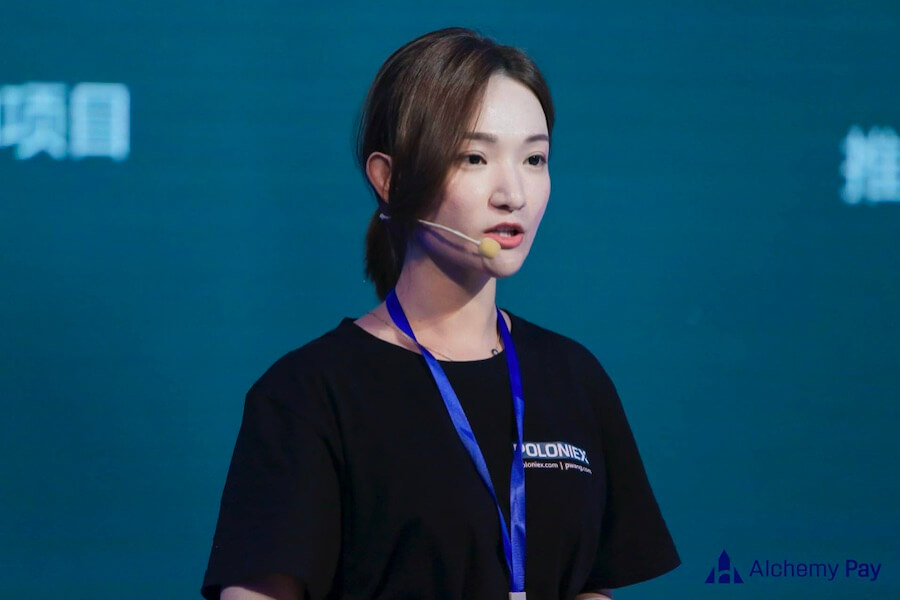 At the 2020 Global Blockchain Eco-Conference hosted by Alchemy Pay held in Shanghai, Poloniex VP of Global Business and Marketing Shelley gave a keynote speech entitled "Poloniex and TRON – Riding the Wind and Waves Together".
This Global Blockchain Eco-Conference brought together more than 30 local and international industry-heavyweight speakers and over 500 audiences at the showground. This includes: Mr. Chen Weigang, Supervisor of the Board of Directors (Financial Institutions) of China Banking and Insurance Regulatory Commission; Mr. Jiang Yongqiang, GM of Xiaomi Fintech; Mr. Zheng Xilong, Chief scientist of Ping An Group OneConnect Blockchain Research Institute; Mr. Cliff Liang, GM of AWS Architecture; Mr. Zhao Changpeng "CZ", Founder of Binance; TRON founder Justin Sun; David Chaum, the father of "digital currency" and more.
Shelley shared that in the process of opening up to the Chinese market, Poloniex has become a lot more user-friendly. Concurrently, the network has not had security issues in the past 6 years.
Shelley pointed that Poloniex has always been committed to providing customers with first-class functions and services, and is actively looking for high-quality assets to join its network. In addition, Poloniex has established an alliance with TRON and will continue to support the development of the TRON ecosystem.
Contacts
Katherine,
Alchemy Pay
Telephone: +86 13132413939
Email: support@alchemytech.io
Website: https://www.alchemytech.io/
Twitter:https://twitter.com/alchemypay