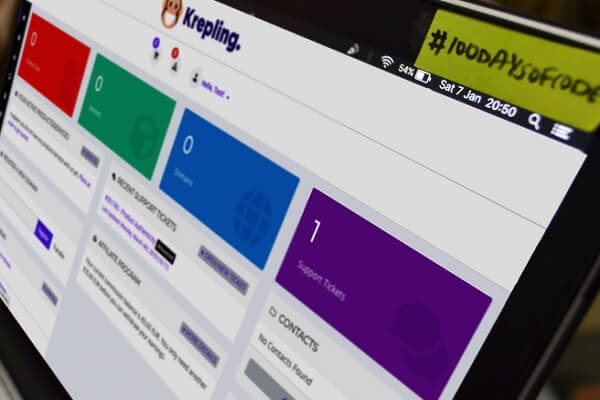 The world of e-commerce has transformed the way individuals work and spend their monthly earnings. It is changing a vast spectrum of the economy and some of the companies behind this extravaganza have already become household names.
Krepling​ is the new and exciting startup looking to capitalize on this recent market growth with it's highly innovative platform and ​the variaty of tech giants it incorporated within it's framework.
In addition to making its founders known market challengers, it's platform has created a strong interest in business owners and aspiring entrepreneurs.
Krepling is the product of Liam J.E Gerada, and Travis Gerada. It was only a few months ago when the duo created the platform with Liam sitting with his head deep in his previous fashion startup selling high priced footwear and clothing according to this month's featured story by David Smooke's HackerNoon.
But how does Krepling fair against its multi-billion dollar competitors? To start off such an analogy, one must simply look it the number of competitors Krepling has and whether or not they are actually even competing with some of them. Krepling has been known to adopt several other forms of technology to better its platform, for example; Krepling adapts the Weebly builder to allow its users to build their websites, which was recently acquired by Square for $365 million. This does not only allow for Krepling users to have the widest range of some of the best e-commerce tech through one interface, but this also plays a key role in how Krepling tackles its market competitors.
Does this mean Krepling is not really competing with Square? Well not entirely. Although it is providing Square with potential revenue, it is also capitalizing on"potential profit" in the eyes of Square. Krepling incorporates other forms of tech and services into its platform, such as customizable hosting options, email account management, domain management, and services ranging from practically anything under the sun. It is this that creates a wider range of resources for its users and keeps its users from simply just purchasing Weebly instead. It is for this reason Krepling has begun to excite users and investors.
What about price? When you weigh in the big competitors like Shopify and BigCommerce, Krepling is practically half price. Krepling's plans range from $15–35/month with 3% transaction fees. That is cheaper than all of it's leading competitors, with the Shopify's cheapest option only weighing in at $29/month with 3% transaction fees.
In order to save on transaction fees, the likes of Volusion, 3dcart, and BigCommerce require you to spend extra on their premium plans each within the price range of $100–200/month which in return they all offer as little as 2.5% on transaction fees. Krepling requires its users to purchase its most premium plan at a price of$35/month in which it guarantees users 0% on transaction fees.
Krepling is undoubtedly looking to compete with its highly affordable price range but how does it rank when it comes to overall design and functionality. As stated previously, Krepling uses the Weebly builder for most of its e-commerce features and incorporates other programs along the way. This mix and match of different programs come together very nicely through the interface, allowing users to jump from the e-commerce side of things to the business side of things. What Krepling does excellently is creating the process of hiring marketing and SEO services through a few simple clicks. This is something most major platforms have battled to do, whether it's overpriced gigs or stretchy approaches, most platforms have dropped this side of e-commerce entirely. Kreplings current CEO stressed the importance of "helping the user create a successful business", which is something that elevates Krepling even further.
Krepling has adopted a similar structure to that of Fiver, thus allowing its users to purchase services to help better their businesses. Unlike a lot of their options, this is not restricted to people who host or build their business with Krepling. These services are open to everyone, something the other platforms don't do either. No one is denying Krepling has huge upside market potential. Its way of competing and doing business is unique and scary for the opposition. Small business owners can only get excited by such a new innovative platform with such a variety of customization and abilities available at one's fingertips.If you are an Investor get on board. If you are a business owner, sign up now.